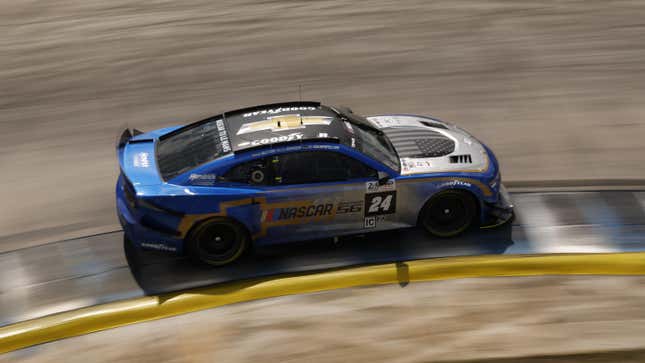 This June, Jimmie Johnson will be racing in his first-ever 24 Hours of Le Mans thanks to the experimental Garage 56 program. He'll be behind the wheel of an endurance-prepped Chevrolet Camaro ZL1 based on NASCAR's Next Gen Cup car, but the experience is going to be completely outside of Johnson's traditional ballpark. His best preparation, though, hasn't always been on the track: it's been in a simulator.
2024 Nissan Z NISMO | Jalopnik Reviews
In case you missed it:
Jalopnik had a chance to speak to Johnson last month as part of his preparation for motorsport's most iconic endurance race. While Johnson and his co-drivers — Mike Rockenfeller and Jenson Button, with Jordan Taylor serving as a reserve driver — have all had a chance to sample the Camaro's handling on the track, that kind of testing time is limited. It also means simulator work is becoming invaluable, with Johnson praising the "trust" he has in the "virtual experience."
"In the beginning days of using the simulator, we had to create a new model," Johnson told Jalopnik. The Le Mans-spec Camaro is a one-of-its kind machine that both Johnson and Button have told me is drastically different than the Cup car on which it's based.
That meant Johnson was actively involved in the development of the sim model for the Garage 56 machine — and noted that the initial sim work and development came well before he had a chance to test the cars in real life.
"On-track testing enabled us to validate the model and refine certain details," Johnson said. "We're in a place of trusting the virtual experience of the sim."
But coming to grips with the virtual dynamics of the Garage 56 car is only one part of Johnson's greater sim work routine: He's also putting in the laps at the Circuit de la Sarthe, where Le Mans is run.
"It helps to fill in the blanks," he explained, referring to the fact that he has never competed on the track. "I've been experimenting to see what it'd be like to drive in wet-weather conditions, what it's like to drive in traffic. I want to pull experience from anywhere that I can."
That kind of work is essential for Johnson, who referred to himself as the rookie of the team. Co-drivers Button and Rockenfeller have both competed at Le Mans in the past, so they're familiar with what happens in the race. For Johnson, though, that's all new.
As a result, Johnson noted that the FIA and the ACO — the sanctioning bodies that help put on the race — actually require new drivers like Johnson to run through a pre-race simulator session to evaluate their readiness to compete.
He said that the goal is to "work through the [officiating] procedures, like virtual safety cars and slow zones, that I have no experience with." If Johnson is able to respond to those procedures appropriately, he'll be given the all-clear to compete.
While most drivers utilize simulators in some form these days, it's fascinating to know just how reliant motorsport can be on the software — including when it comes to evaluating the readiness of drives to actually hit the track with their competitors.