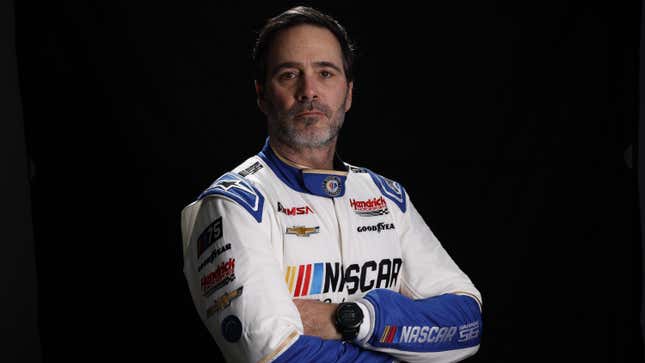 The 2023 24 Hours of Le Mans is just over six weeks away, which means we'll soon see Jimmie Johnson, Jenson Button, and Mike Rockenfeller hit the track behind the wheel of an endurance-racing specced and NASCAR-inspired Chevrolet Camaro ZL1. The goal of Garage 56 has always been to display unique advancements in the automotive and racing spheres, but for seven-time NASCAR Champion Johnson, there's another goal in mind: Introducing European fans to the American stock car scene.
In case you missed it:
"I think [the NASCAR Garage 56 program] will be a nice eye-opening experience for the motorsport community," Johnson said when I asked what he'd hope the program accomplishes in the international sphere. "We have a real opportunity here to show the caliber of racing and the commitment to engineering and motorsport. We have an incredible chance to showcase U.S. motorsport and bring it across the pond to France."
Of course, NASCAR-sanctioned stock car racing does exist in Europe in the form of Whelen Euro Series, but Johnson is right to point directly to raising the profile of American competition. It can be very easy for the international community to write off the NASCAR Cup Series as being a competition to see what stereotyped Southerner can turn left the best, and that narrow mindset means that the complexities of NASCAR's engineering and race strategy can easily be discounted.
Bringing a NASCAR-inspired icon of American muscle over to France to run alongside sleek prototypes and GT machines, then, is the perfect opportunity for some of those engineering cues to find admirers on the world stage.
That endeavor, though, seems like a lot of pressure; after all, the eyes of the racing world will be on Johnson, Button, and Rockenfeller as they navigate all 8.5 miles of the Circuit de la Sarthe. Has that pressure impacted them? Johnson doesn't think so.
"We've managed it much like all of our careers in racing: we're going out there to perform at our highest level," Johnson told Jalopnik.
Because of the nature of the Garage 56 program, the Chevy will essentially be competing in a class of its own. The car won't really be racing for a classified finishing position, since the whole point is simply to provide a showcase and testing ground for tech. But that doesn't mean Johnson will be relaxing behind the wheel.
"We're focused on all the details required, all the time, energy and effort. It's like we've always done," Johnson said. "We're going there to win a race."