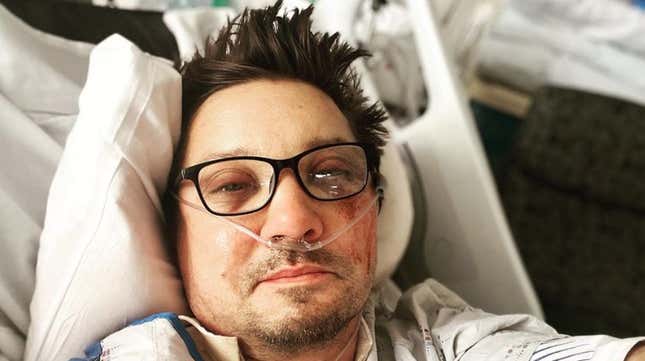 Eight ribs broken in 14 places. Both ankles, one knee, and one tibia broken. A broken shoulder, clavicle, eye socket and jaw. A collapsed lung and a pierced liver. This is what actor Jeremy Renner suffered in January when his PistenBully snowcat rolled on top of him as he was working to get a family member's car out of a snow bank near his home in Washoe County, Nevada. Now, Renner is speaking publicly about that near-fatal moment for the first time in an interview with ABC's Diane Sawyer — including a harrowing recording of the 911 call just moments after the incident.

Chase Elliott Explains the Challenge of Adapting to NASCAR's Next Gen Car
"I'd do it again," Renner tells Sawyer. "Because it was going right at my nephew."
In case you missed it:
The terrifying event unfolded when Renner fired up his snowcat to try and rescue a vehicle stuck on the private, unplowed road in the Nevada mountains. Renner has posted photos of his snowcat on Instagram in the past, showing the steep road and deep snow leading up to his Nevada home.
As Renner tells it, on the day of the accident, he had climbed out of the Snowcat, but the vehicle began to roll away, heading towards his nephew. When the actor tried to climb back into the cockpit, he got dragged under the treads of the PistenBully — a heavy-duty vehicle used to groom ski trails, weighing nearly 15,000 pounds.
Now, after months of recovery, Renner maintains an admirably positive outlook on the incident that nearly cost him his life. As he told Diane Sawyer, "I've lost a lot of flesh and bone in this experience, but I've been refueled and refilled with love, and titanium."
Renner's full interview airs Thursday, April 6 at 10:00 pm EST on ABC. Here's a sneak peek: