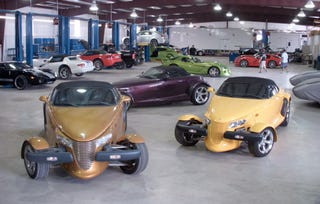 During our Hennessey Performance HQ tour there were three vehicles that caught our eye, all non-Vipers and all for foreign customers. The first was a Grand Cherokee that I mistakenly took to be Hennesey's personal Grand Cherokee SRT600, but it had Mexican plates. It turns out the owner wanted his Cherokee to be able to run the quarter mile in the 10-second range. They tried explaining that it'll easily run low 12's and that the cost to get it to run 10's was rather high, but he insisted. So what you see in the pictures may be the world's only 10-second Grand Cherokee, possibly designed to dodge Federales. The Prowlers, well that's an even stranger story...


There were just a pair of Prowlers hanging out around the shop, but the total order is for six of the Chrysler hot rods. Why? The Russians love the Prowler and an unnamed Russian supermarket magnate needs a fleet of them, which the Hennessey crew began looking for on eBay. Three of the six are getting supercharged and all of them will be fitted with chrome. Lots of chrome. The front ends, grilles, accent pieces, belly pans, wheels and exhaust are all getting the chrome treatment.
The shop was actually quite stacked with cars wearing foreign plates. The reason? With the weaker dollar it's like their foreign customers suddenly got a 50% discount.
(also see our tour of Hennessey HQ, Future Hennessey Plans and Hennessey Challegner SRT600 Exclusive First Look)