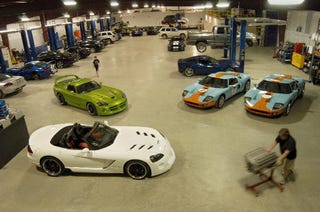 When one of the ways for employees to get out of the Hennessey Performance compound in Sealy, Texas is by driving down a drag strip, you begin to see why people perceive them as mad-for-power. However, after spending a day with the people at Hennessey Performance, I can say they're just like anyone else. Anyone else knee-deep in enthusiast's money and supercars.


The first thing you notice upon arrival to the shop along Interstate 10 is that there's really not much to notice. The new headquarters is operational but not completely finished. Therefore they've elected not to create much in the way of attention-grabbing signage other than a small sign proclaiming "Lonestar Motorsports Park." But when you're driving all manner of supercars around, you're going to get attention.
Attention, of course, is a good thing. Known for outrageously tuned vehicles, especially Vipers, the Hennessey operation does almost no major advertising outside of the DuPont Registry. When you're able to post a YouTube video of your Twin Turbo Viper racing to 220 mph, the news sort of spreads by itself.
Though their showroom isn't complete, an Audi R8 and a pair of Vipers make the only necessary statement sitting alone on the shiny red floor. If that doesn't work, there's always John Hennessey. It's hard to say whether he excels more at tuning or selling, but he's managed to keep doing both for a while in a state known for shops that fly too close to the sun. While it's true some question Hennessey's service record, it's hard to argue with people continuing to come back.
Besides, the real fun isn't in the showroom, it's on the shop floor, which looks as though it was built as an answer to the question: "Why mess with perfection?" On the day of my visit there are half a dozen Vipers, the first Hennessey Challenger SRT600 in prep, an SRT600 Cherokee, a GT40, a Porsche 911 peppered about a room already littered with vehicles.
My expectation was the Hennessey people would be power-mad tinkerers. While certainly dedicated to the extremes, no one tried to assault me with a Hemi-powered golf cart. However, it is a shop with mechanics who ritually test their tuned cars on the quarter-mile dragstrip behind the shop on the way home. And on the day I visited, John was on his way back from autocrossing in Siberia. They may not be power-mad, but power's most definitely on their minds.
After performing the perfunctory gawk-and-shoot with my camera, it was time to get down to business. My first question is also the most obvious, what do you do when the Viper dies? Dave Golder, long-time LeMons racer and Hennessey General Manager, points out the car is going to be around for a short time and the cars already built aren't going to suddenly disappear. The company is also expanding into new models like the Challenger, opening up a Tuner School and expanding their strip into a full race course.
There are those who would scoff at the audacity of the company's mission, which is to take already powerful cars to their extreme. There are those who turn their noses up to the company's owner — calling him audacious. But dropping the hammer on my normally-aspirated car as I charged down the track towards I-10, I couldn't help thinking what the car might sound like with a pair of turbochargers. Audacity, apparently is contagious... though affluence, unfortunately, is not.
(also see Future Hennessey Plans , Hennessey Challegner SRT600 Exclusive First Look and Weird Hennessey Vehicles)