Women in racing do a lot of great things, and people aren't great at recognizing them for it. From Iran's barrier-breaking racer Laleh Seddigh teaching other women to race to Danica Patrick showing her car for her last Indianapolis 500, here are some of the incredible things women in motorsports are up to lately.

01:08
Danny DeVito Explains Old-School Car Customizing to His Daughter Lucy
Today 1:13PM
Other than a few big names, women in motorsports often don't get as much widespread, regular media coverage as they deserve. We hope this series of posts helps change that, even just a little.
---
An Interview With Iran's Barrier-Breaking Female Racer

Recently, Sputnik (which you probably shouldn't get your foreign policy news from, but they did a good job here) highlighted one of Iran's leading women in the racing world—Laleh Seddigh. According to the story, Seddigh said she was the first woman to participate in auto racing alongside men after the Islamic Revolution. She began her racing career in 1997, nearly two decades after it.
Seddigh plans to race in major rallies this year, and she's been working to teach women to race in Iran and elsewhere. But it wasn't easy to get this far, and she even had to get special permission to race when she first started out.
From the story:
"At first there were many different obstacles. I even had to get permission to participate in the race, under which I pledged not to violate religious and Islamic norms. This step was an important event at that time and attracted attention of many media outlets," Seddigh said.

According to her, due to Iran's cultural specifics it was at first difficult for her to communicate with men from motor sport because they did not take her seriously.

"At first, men did not see me as an opponent. Due to cultural peculiarities (of our country) there were conflict situations. You can even say that (between us) was an unhealthy competition," the racer told Sputnik.
G/O Media may get a commission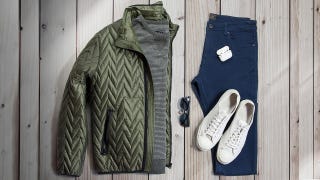 60% off
Jachs NY Fall Sale 60% Off
In teaching women to race, Seddigh's noticed that most of them don't stay in the sport for more than a couple of years due to the difficulty of being a woman in it. She told Sputnik she wants to change that and help more women "enter the ranks of the champions."
The full story is here, and it's great.
---
Danica Patrick Shows Off Race Car For Her Final Indianapolis 500

Danica Patrick showed off the race car she'll drive in her final Indianapolis 500 for Ed Carpenter Racing earlier this week, and it sure is green. But bright green is a color we've come to associate Patrick's cars with over the years, so it's only fitting that she retire from the sport in the color as well.
After losing her Stewart-Haas Racing ride in the top-level Monster Energy NASCAR Cup Series at the end of last year, Patrick announced that she'd retire from racing with one final go at two of the biggest events in motorsports—the Daytona 500 and the Indy 500. Patrick was running 13th midway through this year's Daytona 500 when a wreck at the front of the field took her out of the race, and her final Indy 500 will be in May.
She's entering the race alongside Pippa Mann, who confirmed her team for the race earlier in March.
---
Women Make History At The Pirelli World Challenge Weekend In Austin
Pirelli World Challenge was at Circuit of The Americas last weekend, along with Aurora Straus and Samantha Tan. They set a new record while there, as they both led the race at the same time in their respective classes. It was the first time two women ever led at the same time in a World Challenge race.
The COTA weekend had two rounds. Tan and her co-driver finished fifth in the Pro-Am division of the GTS-X race on Saturday, and third on Sunday. Straus and her co-driver finished second in the Am division of the GTS-X race on Saturday and won it on Sunday. It was Straus' World Challenge debut weekend, and she brought Girl Scouts up on the podium with her Saturday.
We covered this, along with the rest of the World Challenge action at COTA, over the weekend.
---
Supercars Team Owner Betty Klimenko Gets The 2018 Season Started
Betty Klimenko became the first woman to win Australia's Bathurst 1000 as a team owner in October, and she owns Erebus Motorsport in the Virgin Australia Supercars Championship. Her team is named after the Greek god of darkness, and, according to The Age, she flaunts her tattoos and speaks her mind.
Her race team started its 2018 season earlier in March, despite The Age quoting her husband as telling her that she "live[s] in an area where they think V8 is a vegetable juice." She's different from the people who live around her in one of Sydney's expensive eastern suburbs, and she seems to have a presence with her no matter what. From The Age:
She is wearing torn blue jeans and a lot of jewellery: four diamond studs in one ear, two in the other, a whopping ring, a glittering jangle of bracelets. Forceful in any setting, she seems to have an added sense of purpose out here.
Klimenko's been in Supercars since 2013, and she got involved with Australian racing in 1998. She inherited a fortune from her adopted father after coming from a past unknown to her—according to The Age, Klimenko hired a private investigator to track down her parents and discovered she was likely conceived in a prison cell while her mother was in jail.
She grew up to be fully invested in racing, and the story said she has two Mercedes cars, a Lamborghini, a Fiat and a $100,000 Holden HSV GTS in her own garage at home. More of her story can be read here.
---
Women Team Up To Support 7-Year-Old Girl Told 'Girls Can't Be Mechanics'

About a week ago, parent David Hosking posted on Facebook that someone told his daughter, Mia Hosking, she can't be a mechanic when she grows up because she's a girl. He asked people to tag women they knew in motorsport to show his daughter otherwise.
The women who came across the Facebook post didn't disappoint, and outlets like The Plymouth Herald and ITV News in the U.K. picked the story up from the post. David Hosking shared photos with the outlets that show his daughter in race cars, working on cars and posing on motorcycles. Mia Hosking seems like she kind of rocks, and that's why it's so disappointing that someone was able to discourage her passion with their words.
But all kinds of Facebook users found the post and shared their encouraging words, with some posting photos with their cars and race cars, and others sharing stories about or tagging women they knew who are actively involved with cars. Here's the post, along with all of its encouraging comments:
The Herald talked to David Hosking, who said his daughter was "excited" to see so many women involved with cars. He told the Herald he doesn't know "why people have got to be so judgmental" and that it's "a shame ... there are some people out there who say that she can't do it."

But thankfully, he said, the post proved to Mia Hosking that she can pursue her dream. It's a good thing words can be just as uplifting as they can be harmful.
---
Sneha Sharma Returns To Racing After Injuries Sidelined Her In 2017
At 27 years old, Mumbai resident Sneha Sharma is a racer and a pilot for a commercial airline. She's a top female racer who prefers formula cars in India, but a Red Bull profile said she hurt her knees while pushing for a championship in the 2017 season and had to take a break from racing to recover.
She's all recovered now, after physical therapy and training in the pool for low impact, and she's trying to decide which series she'll race in. From the story:
Now fully recovered from injuries, Sneha is contemplating between staying in LGB for another year or graduating to the Euro JK (Formula BMW) class of the JK Tyre Racing Championship. However, she doesn't want to rush into the decision, saying she will only choose to do so if she feels fit enough to make the jump.

"I've driven it, but mainly for a photoshoot. It's an amazing car," she said about the formula-class car.

With the new season of JK LGB and Formula BMW still several months away, Sneha's immediate focus remains on training and fitness.
The Red Bull profile said Sharma had to let a lot of her early racing career be decided by what kind of sponsorship she could get, but that once she started flying planes for Indian airline IndiGo, she had enough money to invest in her own racing career and go back to formula racing.
Sharma's career hasn't been easy as a woman—she said her aggressive driving gets called reckless and that she gets blamed for a lot of wrecks, telling Red Bull that "if there are two [to] three drivers involved, the finger will always be raised on the woman" and that they'll say "the girl doesn't know how to drive."
More of her story can be read here, and here.
---
Go ahead and remember these names, because this probably won't be the last time you read about them.

Know of women doing newsworthy things in the car or motorsports industry lately? Don't let the news cycle pass them up. Reach out to alanis.king@jalopnik.com or @alanisnking and fill us in.