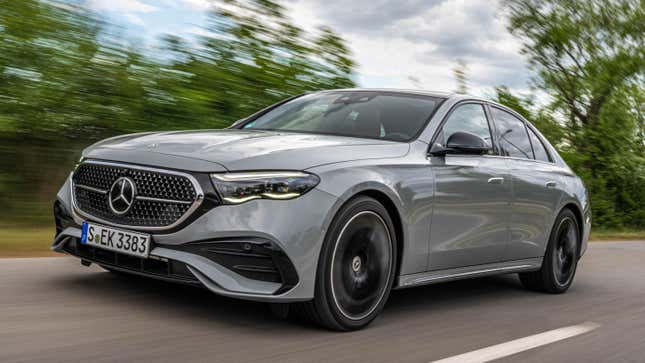 Over the years numerous golf events have had winners scoring holes-in-one to win a prize, only for the tournament to try to back out. It's seemingly happened again, as Golf Digest reports another event doesn't want to award a golfer a prize vehicle, in this case a Mercedes-Benz. Now, there's a lawsuit.

Linda Chen entered the Fins on the Fairway charity golf tournament at the Isleworth Golf & Country Club in Windermere, Florida, in May. On the course's 11th hole, she sunk a hole-in-one, winning a new $90,000 Mercedes-Benz. But when the time came for the tournament to award Chen the prize, officials wouldn't give her the car. Her complaint claims that officials told her that, "she was never going to be able to claim the prize vehicle and abruptly walked away from her."
Tournament officials argue that Chen didn't disclose her previous golfing history: Chen has been registered as an amateur with the U.S. Golf Association for over 15 years and played pro from 1994-1995. Because of this, they say, she disqualified herself. From Fox News:
"If you look at Linda Chen's LinkedIn page, she makes no mention of her amateur status. She made no mention of it AHEAD of the tournament," Tournament Golf Event owner Timothy Galvin told Fox News in an email. "There were other professional golfers in the event who informed the tournament of their status."

"That's all Ms. Chen had to do ahead of time and this could have prevented how things are going," he added.
After some communication between officials and her attorney, they confirmed that they were denying her prize.

Chen is now suing multiple groups that were involved in the event, everyone from the event owner Timothy Galvin to the sponsors. According to the suit, Chen entered into a contract with the tournament and officials by simply entering it.

By showing up, entering the Fins on the Fairway golf tournament, her host paying the entry fees, and hitting a hole in one," Chen "accepted the Defendants' offer, formed a contract, paid consideration, and fulfilled her obligations under the contract.
Galvin says he and tournament officials weren't dismissive of Chen when she tried to collect the prize and that he tried to warn her that "her former pro status may be an issue." Ultimately, though, Galvin says the courts will decide.