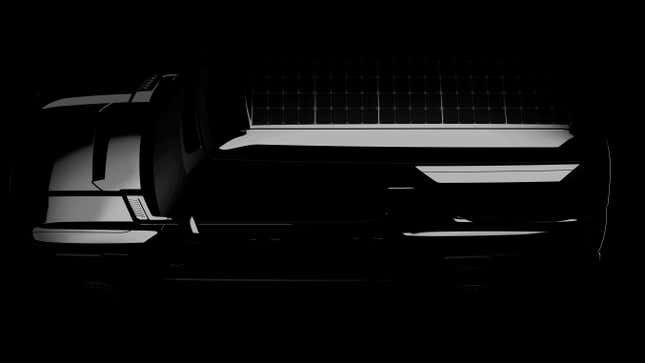 The GMC Hummer EV Pickup has tens of thousands of preorders, many of which won't be fulfilled until next year, though that hasn't stopped GMC from prepping an overlanding version of the Hummer EV Pickup, in collaboration with the Oregon-based overlanding outfit Earthcruiser, GMC said Thursday. Details are a bit scarce, but that doesn't really matter for now, given that deliveries aren't beginning any time soon, but this does beg the question of whether there are some forms of vehicle use that are simply at odds with full electrification.
In case you missed it:
GMC's press release, still, is nothing less than grandiloquent. "GMC and EarthCruiser Collaborate to Shape the Future of Overlanding," they say, full stop. The future of overlanding, like all of it! It sounds very exciting until you stop and think: This thing is probably going to be even heavier than what the Hummer EV Pickup already is, and thus will probably have even less range.
Here is all the detail on the vehicle GMC provided today:
Working with EarthCruiser's research and design division, ECI (EarthCruiser Innovations), and informed by their extensive experience in the field, GMC is collaborating in the design and development process for a next-generation overland upfit solution for electric vehicles that will be integrated onto the HUMMER EV Pickup.

[...]

GMC and EarthCruiser have come together in their shared vision to develop top-tier, zero-compromise adventure vehicles, leveraging EarthCruiser's engineering technologies that have resulted in unique and innovative self-contained living habitats, while keeping capability and agility at the forefront.
GM says that the Hummer EV Pickup will have a "GM-estimated" range of "350+" miles, which is not an EPA estimate, though you can expect that the EPA's won't be too far off. GM also says that "actual range will vary based on several factors, including temperature, terrain, battery age, loading, use and maintenance," which is short for saying that if you go off-road in this thing, it is likely to have less range than 350+ miles. If you go off-road even more geared up with "upfit" Earthcruiser accessories and also, you know, gear, for your Big Overlanding Adventure, it'll likely be even less, because weight.
So you're looking at, maybe 250 miles max range? I don't know, but that would give me actual range anxiety — not the fake suburban kind, which doesn't really exist: setting off into the great uncharged unknown knowing you're handicapped already even though this is supposed to be fun, dammit.
In an email, a GM spokesperson said, "Don't have any further specs to share today, as we're just teasing the product image and announcing the collaboration with EarthCruiser at this time. We'll have more to share later this summer as we get to the full reveal of the product."