According to the WSJ, GM's early-August board meeting is likely to result in layoffs affecting both blue- and white-collar workforces. They're also reporting GM is seriously exploring sloughing off another brand, either by outright closure or by placing it up for sale, a-la Hummer's "strategic review." We've put together a quick brand-viability scorecard breakdown after the jump for those of you playing along at home.

The Journal claims GM has already taken Chevrolet and Cadillac off the table, considering them core to the company. But what about the rest of the lineup?
Saturn: GM's low-price, non-haggle, donut-loving import-fighter brand has reportedly never made a profit. Even with products like the Aura and Astra, it's having trouble making any inroads with consumers despite a loyal fan base. Coupled with the fact GM has reportedly stopped development work on the next-gen Aura, we think Saturn's got a good chance of getting to know Geo in the division dumpster.
Saab: The storied Swedish born-from-jets brand has either been vastly improved or pathetically watered-down during GM's ownership, depending upon whom you talk to. Either way, with only about 35,000 sales per year in the U.S. — about what the Accord sells each month — Saab is probably due for an ownership change.
G/O Media may get a commission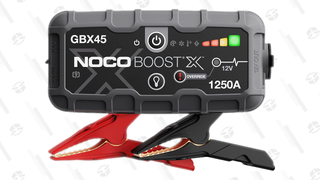 13% Off
Noco Boost X GBX75 Jump Starter
Buick: If it weren't for Buick's gangbusters Chinese sales and the strong-selling Enclave, we'd be more concerned about the tri-shield brand. Would it go Asian-market only? Possibly, but Buick's made it out alive before, and we think it'll do so again. There are just too many old people out there to sell to.
GMC: GM's truck brand sells rebadged Chevrolets almost exclusively, and Acadia is reportedly already a goner. But the division has a strong brand presence among site foremen who enjoy driving the same vehicle their workers drive, but at a 10% premium. Will that be enough? We give GMC a 50/50 shot.
Pontiac: The performance division has Solstice, the G8, and the reasonably strong-selling G6. Pontiac has always been an image brand as well as a volume brand; is G8 enough to bring that performance image back? We're not so sure...but we don't think Pontiac is going away any time soon.
So, who's following Hummer (and probably about 25,000 current GM employees) out the door? Give us your thoughts. [WSJ]