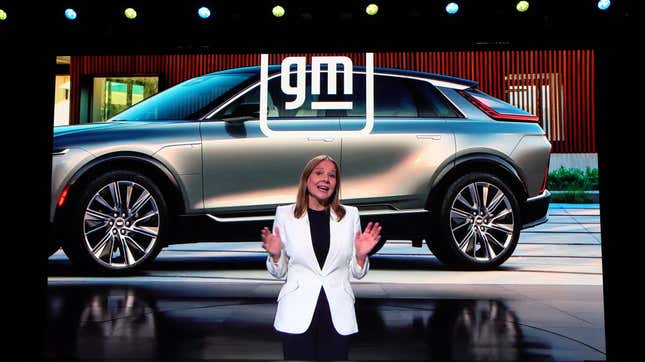 General Motors is planning to eliminate around 200 engineering jobs from the company. However, Automotive News says those workers will be able to move to other jobs within the company. It's apparently being done in an effort to "reduce complexity" at the automaking giant.
Honda's Motocompacto Is The Ultra Portable E-Scooter That Can Fit Just About Anywhere
During GM's second-quarter earnings call in July, CEO Mary Barra reportedly said the company is launching a new strategy called "Winning with Simplicity." It's meant to lower design and engineering costs as well as reduce complexity in vehicle orders and manufacturing, according to the outlet. GM is apparently aiming to cut trim levels in half in an attempt to create "fewer part numbers to simplify marketing, engineering, manufacturing, while maintaining the best features customers want."
In a statement, a spokesperson for GM told Auto News that the automaker is "taking steps to rebalance our engineering resources to better align with our growth strategy. This will require a small number of engineers to move to other parts of the organization over the next several months. We will work with those who are affected and provide them with an opportunity to apply for open positions."
The outlet reports that GM said it is targeting about $2 billion in cost reductions over the next couple of years. On the call, Barra reportedly said the automaker has identified another $1 billion in fixed cost cuts through 2024. That'll offset the impact of $1 billion in depreciation and amortization to lower net automotive fixed costs by $2 billion by the end of 2024.
Auto News says that about 5,000 salaried employees have already chosen to take voluntary buyouts this year. That accounts for about $1 billion in cost reductions and it also prevents layoffs, GM reportedly said at the time. The company is also aiming to cut salaries and market spending by $800 million with "the remainder coming from significant reduction in all areas of business, including engineering expense, travel and administrative costs," Barra reportedly said.
Now, I'm no business genius, but cutting back on engineers right as GM pushes to get more EVs out the door isn't a winning recipe. But, then again, what do I know?