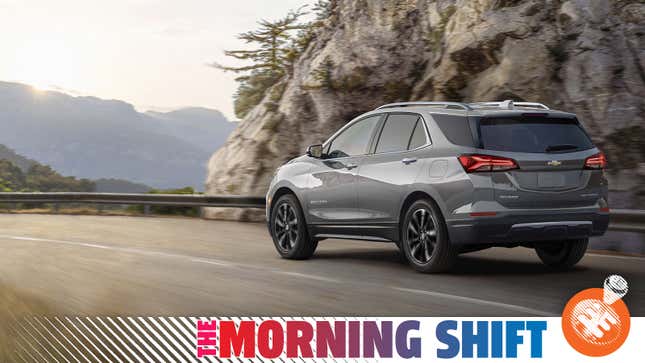 General Motors has some bad but mostly good news, Hyundai's Georgia battery plant is official, and a key executive at a Chinese EV maker has foreseen a world of hurt. All that and more in this edition of The Morning Shift for Tuesday, April 25, 2023.

1st Gear: GM Is Undeterred
General Motors rose its full-year pre-tax profit estimate by about $500 million on Tuesday, even though its first-quarter profit of $2.4 billion slid by 19 percent compared with the same period last year. Employee buyouts and the loss of some Buick franchises that weren't willing to commit to the brand's EV switch were pegged as reasons for the shortfall, per Automotive News:
After accounting for about $900 million in buyout payments to employees and $99 million for Buick dealers who voluntarily gave up their franchise, the company reduced its 2023 net income forecast to $8.4 billion to $9.9 billion, from its previous outlook of $8.7 billion to $10.1 billion.

"Once again, we delivered strong earnings thanks to healthy customer demand for our vehicles, our intense focus on operational excellence, and great teamwork between GM, our dealers, our suppliers and our unions," GM CEO Mary Barra said in a letter to shareholders.

CFO Paul Jacobson said this month that more details about the automaker's progress toward its goal of achieving $2 billion in cost reductions over the next two years would be shared on its first-quarter earnings call. Jacobson has said GM believes it will reach the higher end of its goal of 30 to 50 percent of its $2 billion cost target this year after about 5,000 salaried employees opted to leave the company through voluntary buyouts.

"We saw continued strong pricing, great inventory management, great demand for our products," Jacobson said Tuesday on CNBC, adding that GM also is beginning to "get a lot of traction" toward its cost-reduction target. "We felt confident after seeing those results raising our guidance for the full year."
GM also reported record revenue of $32.9 billion for the North American market specifically in the first quarter. That's up 12 percent against 2022 numbers. Light-duty sales in the U.S. rose by 18 percent, with Reuters adding that higher prices over the period, to the tune of $1,800 per vehicle, more than offset GM's increased costs.
2nd Gear: In Other GM News...
After canceling plans to build a fourth U.S. battery plant with partner LG, GM has opted to partner with the tech giant's crosstown rival and raise its next battery facility with assistance from Samsung. The plant is expected to cost about $3 billion, and its location is still unknown. Courtesy Bloomberg:
The plant will have an annual production capacity of 30 GWh and mass production should start in 2026, according to an e-mailed statement from Samsung SDI Tuesday. The company didn't disclose the facility's exact location.

The new plant will produce prismatic-type, high-nickel batteries as well as cylindrical cells, both for GM's new EVs, according to the statement.

"We are glad to start the long-term strategic cooperation with GM to lead the EV market," Samsung SDI Chief Executive Officer Choi Yoon-ho said.

[...]

"Having multiple strong cell partnerships — one with LG Energy Solution and one with Samsung SDI — will enable us to grow our annual EV assembly capacity in North America significantly above 1 million units," Mary Barra, GM's chief executive officer, said Tuesday in a letter to shareholders.
Samsung is already in bed with Stellantis for a $2.5 billion facility in Kokomo, Indiana. GM and LG's Warren, Ohio, facility is already operational, while their Spring Hill, Tennessee, and Lansing, Michigan, operations are under construction and expected to begin producing cells in late 2023 and late 2024, respectively.
3rd Gear: And in Other Battery Plant News...
Another South Korean battery maker, SK On, has officially minted plans for a new $5 billion facility with Hyundai in Georgia. We first learned about this one in December, but Reuters reports that the paperwork is final now, in tandem with the automaker doubling its first-quarter earnings:
The Hyundai-SK On Georgia plant is expected to start manufacturing battery cells in the second half of 2025 with an annual production capacity of 35 GWh, sufficient to support the production of 300,000 EVs.

Hyundai, which makes the Tucson sport-utility vehicles (SUVs) and the Elantra sedans, reported a net profit of 3.3 trillion won ($2.47 billion) for the January-March period versus a profit of 1.6 trillion won a year earlier, thanks to a rise in vehicle output as a global chip shortage eased and demand for its high-margin SUVs remained strong.
Remember that Hyundai cannot benefit from the EV subsidies under the Inflation Reduction Act because its batteries do not meet the bill's origin requirements. That is why this plant is so critical. However, it might not be as critical as Hyundai might have feared initially — at least not yet. That's because Americans sure do love their high-margin SUVs:
Hyundai and Kia cars are competitive in the U.S., based on their prices and a favourable exchange rate, he added.

Seo Gang Hyun, head of Hyundai's planning and finance division, said conventionally powered SUVs and luxury Genesis cars still accounted for a large proportion of the company's U.S. sales.

"So I would say that the impact of the Inflation Reduction Act would not be as substantial as you are concerned about," he told analysts on an earnings call after being questioned about the issue.
Hyundai knows it's going to be just fine.
4th Gear: It Took a Minute, But the U.K.'s Back
New data from the U.K.'s Society of Motor Manufacturers and Traders indicates that car ownership in the country pretty much returned to pre-pandemic levels last year, as the overall number of vehicles on its roads — including fleet vehicles, vans, buses and trucks — rose to a record high. From Reuters:
After a historic decline during the pandemic, car ownership climbed by 0.36% or 124,393 cars to 35.15 million in 2022, slightly less than but similar to pre-pandemic levels in 2019, the Society of Motor Manufacturers and Traders (SMMT) said.


The uptick comes after car ownership had fallen for two straight years - the first such decline in more than 100 years.

"After two tough years, Britain is on the road to recovery with the first growth in car ownership since the pandemic – while vans and trucks also continue to deliver for business and society in ever greater numbers," SMMT Chief Executive Mike Hawes said in a statement.

The industry body also said the overall number of vehicles on UK roads reached an all-time high of 40.72 million last year, led by easing supply shortages.

The data showed a record 1.1 million electric cars in use, rising by more than half from a year earlier.
This welcome news of health for the U.K.'s auto industry accompanied a 13 percent rise in vehicle manufacturing in February, thanks to semiconductors finally trickling down to the assembly lines that needed them.
5th Gear: A Startling Prediction
Chinese EV maker Xpeng has been hit particularly hard by Tesla's price cuts in the region, having seen its first-quarter sales slashed nearly by half over the first four months of 2023. Its vice chairman, Brian Gu, told Financial Times that this is a sign of the world of hurt the sector is in for in the years ahead, particularly for any brand with global aspirations:
[Gu] said for Chinese companies to be among the last carmakers standing, they would need to have annual sales of at least 3 million vehicles, underpinned by global exports. The world's largest carmaker Toyota sold 10.5 million cars in 2022, while Tesla sold 1.3mn.

The warning comes at a historic juncture for the global car industry. China is on the cusp of overtaking Japan as the world's biggest exporter of cars by volume after passing Germany last year. At the same time, slowing growth and an intense price war is pushing low-cost carmakers to the brink of collapse in China, the world's biggest car market.

"To be in that '3 million club' you cannot be a China-only player, you have to be a global player. We think in that scenario, maybe close to half your volume is coming from outside of China," Gu said in an interview with the Financial Times.

"In five to 10 years, it's going to be a much more concentrated market. I think the [number] of players will probably be reduced to less than 10 at the global stage."
EV buyers in China are certainly spoiled for choice, and Tesla's price cuts presented the first public warning sign that the bubble was beginning to burst. That said, Xpeng may be a tad biased, because fortune has not been terribly kind to it over the past year. The company even renamed and adjusted pricing for the trim levels of its G9 SUV in September just two days after it launched, because people were confused by the hierarchy.
Reverse: Hubble
On this day in 1990 — 33 years ago — we sent a telescope way, way up into the sky. Past the sky, even. From History.com:
Neutral: Bolting Away
I'm off for one day and GM spikes its cheapest EV? Look, I know the Bolt EV and EUV were not long for this world, what with the Ultium platform replacing everything across the General's lineup. But the Bolt EV was very reasonably priced: $27,495 with destination, but before the federal government's $7,500 credit. The Equinox EV is predicted to start around $30,000. This is not the direction things should be moving in. It's the complete opposite, in fact!