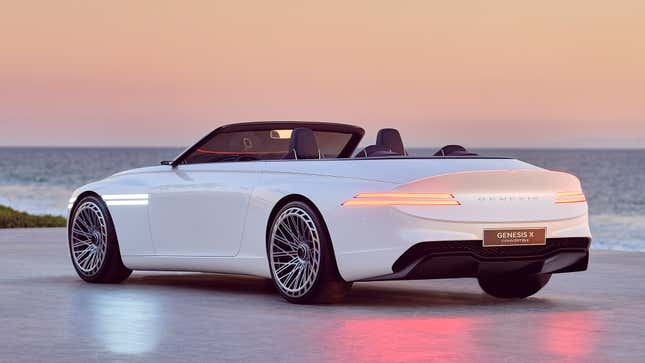 Convertibles. They're becoming rarer and rarer, especially the sort of luxury barge drop tops that used to top everyone's lottery wish list. We used to dream, people. What happened? It seems like Genesis wants an answer to that question too, as the brand has reportedly set about turning last year's X Convertible concept into a production flagship.

The rumor comes by way of Automotive News, which learned from the chairman of the the Genesis National Dealer Advisory Council that Luc Donckerwolke, the marque's chief creative officer, said the X Convertible is headed for showrooms at a recent dealer meeting. And it won't be as pedestrian as the E-Class Cabriolet, or possibly even the new SL. Genesis appears to be setting its sights even higher, per the article:
"When [Donckerwolke] said that at the dealer meeting — to say it in front of a couple of hundred Genesis dealers — that's a pretty good sign," [GNDA Council Chairman Peter] Lanzavecchia said.


A performance GT coupe is high on the wish list for Genesis dealers, according to Lanzavecchia, adding that was rumored even before Donckerwolke addressed dealers about its planned arrival.

"I don't know if it's going to be over $200,000 or $300,000, but I guarantee we're going see a lot of Bentley Continental convertible trade-ins on that when it comes to our showrooms," he said.

"It would be a true halo flagship for the brand," he said. "And although sales volume might be extremely limited, I think production of that convertible would help put an exclamation point at the end of the sentence saying Genesis is a full real luxury brand."
Of course it's hard to say whether the $200,000-to-$300,000 estimate, or the Bentley target, is really what Doncerwolke and company have in mind. I'm sure it's what Genesis dealers really hope he does, and frankly who can blame them? The X series, as well as the Speedium shooting brake, are all show stoppers. You don't introduce a car that looks that perfect and not sell it, unless you're Mazda.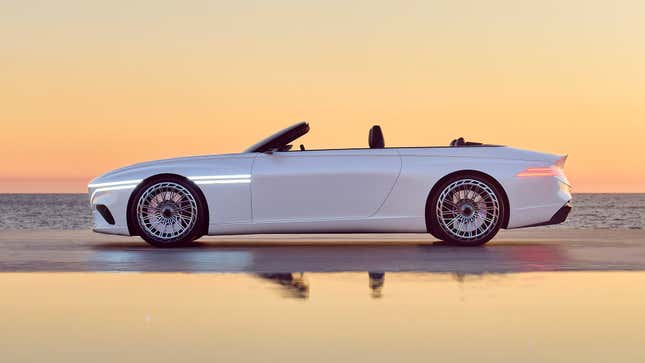 Once again, props to the Hyundai Group for building cars that every other manufacturer of its magnitude is too afraid to. They don't seem to shoot down good ideas very often these days. Taking the Veloster N powertrain and throwing it in the Elantra and Kona was genius. The Ioniq 5 has proven a design masterstroke — even if I have some nitpicky issues with it — and not the S-Class, nor the A8, nor the 7 Series has a bead of the presence dripping from the new G90. (Especially not the 7 Series.) More automakers need to shoot for the moon. This industry is more fun when they do.

Jalopnik has reached out to Genesis for confirmation of the X Convertible's production status and will update this story with anything we should learn.