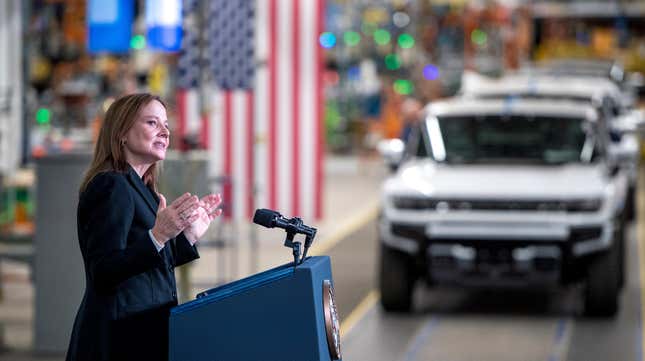 General Motors is trying to cut $2 billion in costs within the next couple of years, so the company is now offering buyouts to most of its salaried employees in the United States. The carmaker's CEO, Mary Barra, sent a memo to U.S. employees on Thursday calling the buyouts "voluntary severance packages," as Automotive News reports.

In case you missed it:
The buyouts are being offered to salaried workers in the U.S. who've been with the company for five years or more, as well as to global executives with two or more years at the company. Workers will have until March 24 to think it over, and those who take the buyout will have until June 30 to leave the company, per Auto News.
If salaried workers in the U.S. opt to take GM up on the offer, they will receive one month's pay for each year they've worked at the company. The buyout will be capped at 12 months, however, and it includes COBRA health insurance as well as a prorated bonus based on performance. The severance packages will include all of the above and other incentives for nonexecutives, while executives will be eligible for their base salary, undisclosed incentives or bonuses, and COBRA insurance.
These buyouts follows a round of layoffs that GM says were due to performance-related issues, rather than as a measure to cut costs. Barra had earlier said that the automaker was not planning any layoffs or terminations to reach its cost-cutting goals.

At the time of Barra's statement, GM had 58,000 salaried workers in the U.S., according to Auto News. The CEO mentioned that GM was trying to reduce expenses, but went on to say that:
The areas we're focusing on include continuing to reduce complexity in all of our products and reducing corporate overhead expenses across the board [...] I do want to be clear, though: We're not planning layoffs. We are limiting our hiring to only the most strategically important roles, and we'll use attrition to help manage overall headcount.
Now, Barra is framing the buyouts as a way to accelerate that rate of attrition among GM's workers in the U.S. The company says the buyouts will provide workers with the opportunity to make a career change or retire early. A spokesperson for GM stressed that these buyouts are voluntary, although they also added that "employees are strongly encouraged to consider the program."