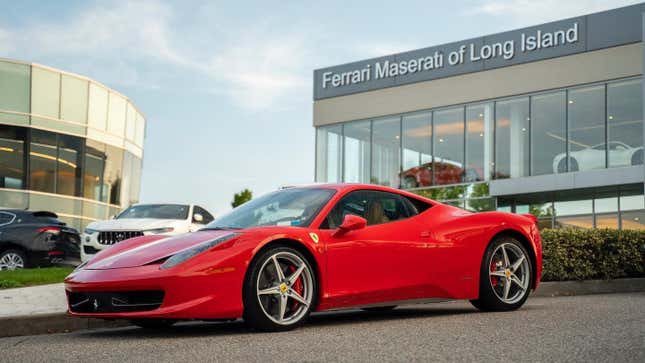 Police are investigating after four Ferraris were stolen on Long Island from a service center. Three burglars reportedly smashed the front glass door of the building and made off with the cars, according to a report from 1010 WINS.

In case you missed it:
According to Nassau County police, the burglary happened at the Ferrari of Long Island Service Center in Plainview just right around 4 a.m. on Saturday, February 25th. The report says that once the three of them were inside, they stole "assorted merchandise" and "numerous vehicle key fobs" before running off with four Ferraris.
The report doesn't specify exactly which models were taken, but it does say there were two convertibles stolen – a gray 2014 model and a blue 2016 model – and two white coupes from 2018 and 2023. The report specified that they were two door models. I guess the Purosangue is right around the corner, but I doubt that would have even been a possibility to steal.
If you're a math whiz like me, you'll have realized that it is very odd that three people were able to get away with four cars. We don't want to speculate, so let's just say for right now it is unclear exactly what went down inside the service center. An investigation is currently ongoing, so more information is sure to come to light sooner rather than later. As you may have guessed, no arrests have been made just yet.
Jalopnik reached out to Ferrari of Long Island for comment, and we will update this article when and if we get one.