President-elect Donald Trump slammed Ford in his campaign but the company has slithered ever closer to him in recent months, and now the company's CEO Mark Fields has joined in Trump's fight against the Environmental Protection Agency's stringent looming fuel economy standards.

Recently the EPA hurried to lock in its standards of more than 50 MPG on average for automakers before Trump takes office, at which point it will be significantly more of a bureaucratic challenge to reverse those standards. Ford is not happy about this, and wanted to keep to a schedule of a "midterm review" of the standards before locking them in.
It looks like Ford doesn't like having to design, build and sell electric cars when nobody's buying them in these days of super cheap gasoline. This is understandable, but far from ideal in the grand scheme of things. Here's what Mark Fields told Bloomberg the other day:
"In 2008, there were 12 electrified vehicles offered in the U.S. market and it represented 2.3 percent of the industry," Mark Fields, chief executive officer of Ford, said in an interview at Bloomberg's Southfield, Michigan, office Friday. "Fast forward to 2016, there's 55 models, and year to date it's 2.8 percent."

This is not a formula for success, he said. "At the end of the day, you've got to have customers, so obviously, there would be pressure on the business if there's not a market," he said.

Fields went on to say that the way the EPA went about locking this all in was the big problem. It's the process that's at fault! Trump would set it right:
"What happened was through eleventh-hour politics, it short-circuited a data-driven development of regulations," he said.

Fields said Ford would now turn to Trump to continue the dialog as planned.

The EPA, of course, is well aware of the shitstorm Trump hopes to rain down on its fuel economy targets. As Jalopnik has written before, these industry-wide MPG standards are flawed but genuinely quite good for enthusiasts and non-enthusiasts alike, and have done a lot to help carmakers put themselves in bad positions selling nothing but big trucks while gas is cheap and then shitting the bed when gas prices inevitably rise.
G/O Media may get a commission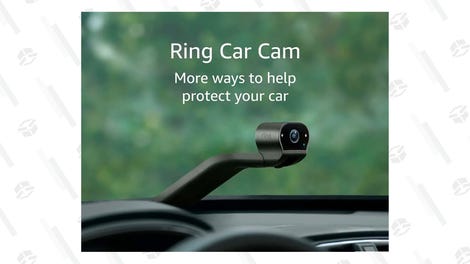 Fighting those standards is short-sighted and money-minded bullshit that's not good for American cars or even the car industry in general in the long run. Ford is not alone in this fight against the EPA's regulations, which is no surprise.
There's a whole Alliance of Automobile Manufacturers of carmakers opposing the EPA. It's just particularly craven of Ford to be hugging close to the biggest anti-Ford huckster in years to further its own corporate agenda.