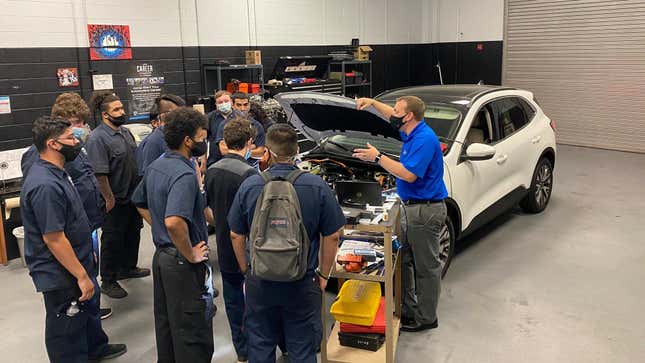 Ford is encouraging students in four U.S. cities to become future automotive technicians with a $1 million scholarship fund. The company wants to address an ongoing shortage of auto techs with the new scholarship, according to Automotive News. There are reportedly just not enough techs coming out of schools, so Ford is stepping in with the Ford Auto Tech Scholarship, available to students in Greater Atlanta, Chicago, Dallas and Phoenix starting this summer.

Ford Has Built 150,000 Mustang Mach-Es Already
In case you missed it:
The scholarship will be given to 200 current or future students who are (or plan to be) "enrolled in post-secondary auto or auto- and diesel-related technician training programs," per Auto News. Each of the students will receive $5,000, and the money can be used to cover the cost of attendance, tuition, tools, living expenses and transportation.
Demand for auto techs in Atlanta, Chicago, Dallas and Phoenix is increasing, but local schools are struggling to crank out enough techs to get them into dealerships and other shops. And demand isn't slowing any time soon, with Ford estimating the need for techs to increase "by 14 percent in Arizona, 10 percent in Texas, seven percent in Georgia and three percent in the city of Chicago," as Auto News reports.
Ford has already introduced initiatives to encourage students to go into automotive engineering or adjacent careers in computers or other technical areas. The buzz word is STEM — short for science, technology, engineering and mathematics. STEM-related studies and the importance thereof has been bandied around schools for years, but it's mostly been in the context of four-year programs leading to a degree in any of the areas mentioned above.
We are now seeing an increase in programs aimed specifically at techs, and Auto News mentions this latest scholarship is among at least seven others sponsored by the U.S. auto giant, which are meant to increase the number of automotive techs in regions where they are needed most. Ford plans to keep an eye on the program and may expand the Ford Auto Tech Scholarship to other regions in the U.S. pending the results.
The Ford Auto Tech Scholarship is backed by Ford dealers as well as the Ford Fund, which is also handling the funds as the automaker's philanthropic arm.
Of course, the initiative is not exactly as disinterested or philanthropic as it may seem. Giving 200 young scholars and budding master mechanics $5,000 a piece is undoubtedly a good thing, but this could also be a boon for Ford; the company plans to focus on service and repairs at many of its dealerships as the U.S. transitions to direct sales and EVs, which means that Ford is going to need more techs in the near future.