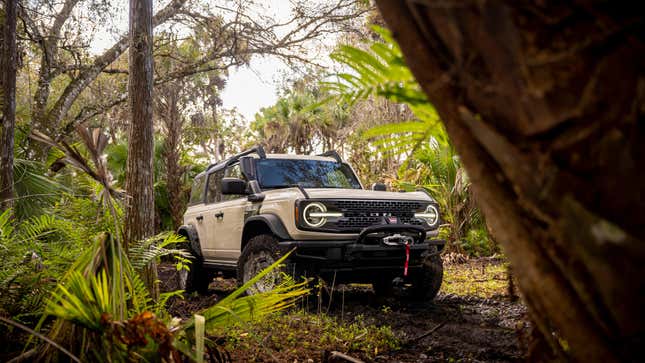 Building cars is hard. Building Ford Broncos, it seems, is particularly difficult. The truck's production has been stymied at every turn by issues from chip supplies to improperly-built parts, but now it faces a new issue: The Ford Ranger. Ford is pausing production on all manual-transmission Broncos, as well as the Base and Everglades trim levels, to revamp its Michigan Assembly Plant for the next-generation Ranger.
Jalopnik spoke to a Ford representative, who said that in order to "maximize commonality on the assembly line to ensure a quality launch for the new Ranger," Ford had to make the "difficult decision" to pause production on certain Broncos. Buyers with their sights and hearts set on those versions of Ford's 'froader are being told to check their local dealer — no new orders will be reaching the factory.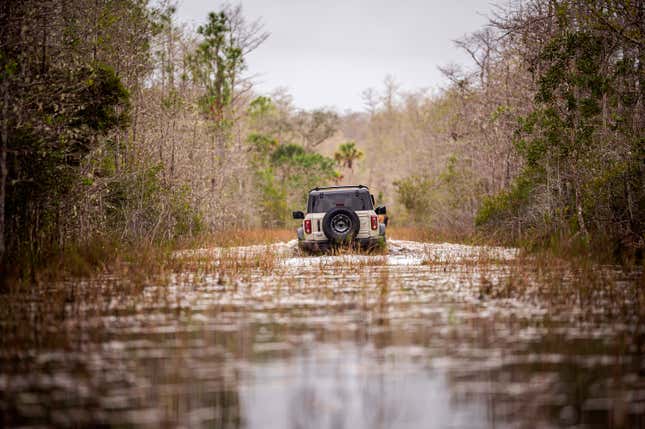 The pause will last until the end of the 2023 model year, meaning those missing trucks should be back with 2024 on their window stickers. Unfortunately, Ford wouldn't confirm a timeline for when that changeover was likely to occur. Given the focus on the Ranger's launch, however, it's very possible those models won't come back until after the next-gen pickup arrives. It could be a long wait, but it's likely worth it to have the best Bronco trim levels.
In a beleaguered production run, this pause is just one more hurdle for Bronco enthusiasts to climb in order to get their trucks. Hopefully, for their sake, the pause ends soon, and those trucks start rolling back off the production lines. After all, who would settle for some boring Bronco Raptor when they know there's a version out there with a factory-installed winch and snorkel — achingly, tantalizingly, just out of reach.