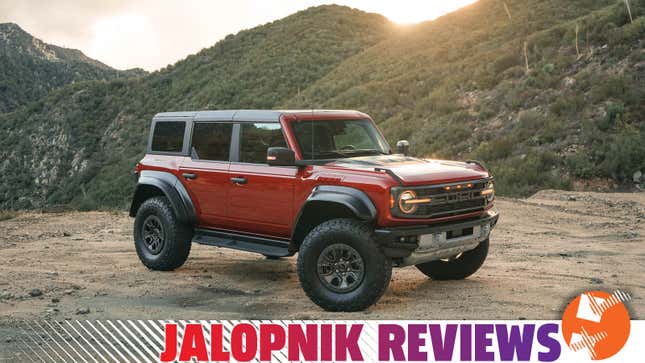 Ever since the new Bronco was announced back in 2020, people demanded a Bronco Raptor that would embrace the desert-destroying ethos of the now-legendary F-150 Raptor. Now that the Bronco Raptor exists, it seems to be almost exactly what everyone wanted, at least on paper. But does an SUV so focused on off-road performance really work as a daily driver?
This NYC Garage Takes Vanlife To The Next Level | Jalopnik Visits
First, the basics. The 2023 Ford Bronco Raptor is available exclusively with a 3.0-liter twin-turbo EcoBoost V6 that produces 418 hp and 440 lb-ft of torque. Sure, this engine is smaller and less potent than the 3.5-liter EcoBoost V6 found in the F-150 Raptor, but the Bronco is smaller and lighter. The 3.0-liter V6 is paired exclusively with a 10-speed automatic transmission and on-demand four-wheel drive with both a high and low range.
The good news about this drivetrain is that it feels at home in just about every driving situation. On paved roads and in town? Lots of low-down torque makes the Braptor jump off the line. Off-road? You can easily throw huge roosts of dirt and sand. Unfortunately, however, as part of the Raptor treatment, Ford added a multi-mode performance exhaust, and let me tell you, it makes that V6 sound like ass in everything but Quiet mode. The combined engine and exhaust noise is toneless, droning and unpleasant, and the less of it I hear, the better.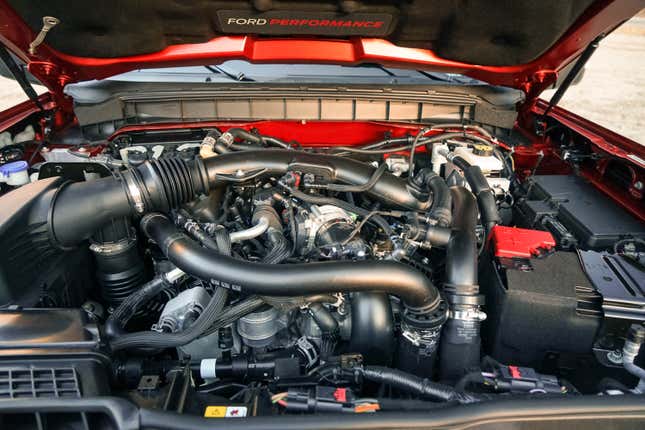 Of course, the drivetrain isn't exactly the star of the show. That honor goes to the Braptor's High-Speed Off-Road Suspension System 4.0 suspension (aka H.O.S.S.). New hardware includes 3.1-inch internal-bypass Fox shocks at all four corners as well as revised suspension links and new shock tower mounts. This gives the Bronco Raptor 13 inches of front suspension travel and 14 inches of travel in the rear. Fun fact: At 77.8 inches tall, the Bronco Raptor is actually too big for Ford's assembly line. To fix this, Ford created extra bolt holes in the suspension to essentially lock the Bronco into a lower ride height until it's ready to roll out the door.

The result of this comprehensive rework, along with a big set of 37-inch BFGoodrich T/A K02 tires, creates a mix of incredible off-road capability and remarkably good on-road manners. I say remarkably good because, thanks to the reasonably taut suspension, the Bronco Raptor is not only not-terrifying on a twisty road, it's actually fun. Sure, this SUV is huge and so wide it requires three federally mandated central orange marker lights, but it also doesn't feel as though it will lose its composure should I take it up a canyon road.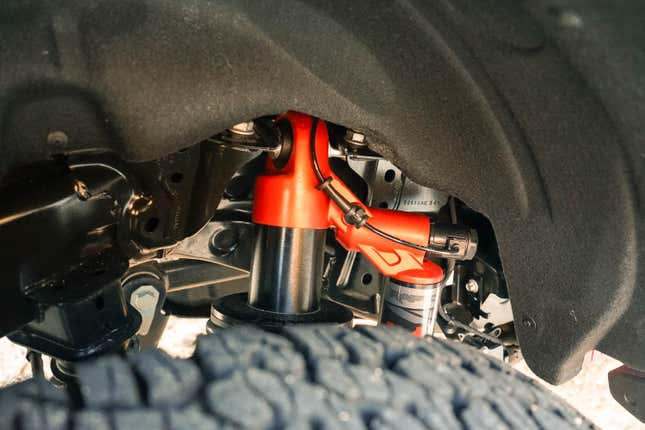 In the dirt, the sense that I can go anywhere and do anything — so long as the trail doesn't get too narrow — is almost overwhelming. The Bronco Raptor makes anyone look and feel like a superhero off-road, which is both a good and bad thing. It's good in that you can get places you wouldn't normally go, but you can also reach places you maybe shouldn't go. For example, during my off-road day with the Raptor, I managed to pull an Austrian Pinzgauer out of a mud hole, which feels insanely impressive. Conversely, I constantly found myself threading the needle on tight trails trying not to rip the Raptor's tacked-on fender flares off on a tree. With great capability comes great responsibility.

The rest of the Raptor experience is pretty normal relative to lesser Broncos. You can use it as a daily driver, though good luck parking anywhere in a busy city thanks to its size. The interior is rugged but comfortable, and the large 12-inch touchscreen infotainment system works great. I also like that wireless Android Auto and Apple CarPlay are standard. Being that the Bronco Raptor has a removable roof, wind noise is very noticeable, and a metric boatload of tire noise only exacerbates that unpleasantness. Then again, this is really a case of "live by the sword, die by the sword."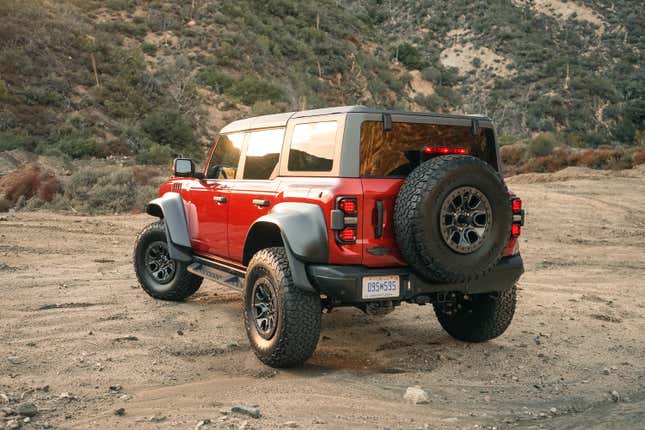 Tech in the Bronco Raptor is pretty good, as one would expect from a new Ford. A 360-degree camera system is standard, which is good because you'll need it pretty regularly. The 12-inch digital dash is also nice, and the base stereo doesn't suck, even with the boomy interior. Overall, cabin room is great, and since the Raptor is based on the four-door version of the Bronco, cargo space is reasonably plentiful for such a purpose-built vehicle, especially with the rear seats folded down.

Being the top of the Bronco trim stack, the Raptor's option list is brief. There's a $2,300 luxury package that includes features like steering assist, adaptive cruise control, wireless phone charging, the upgraded Bang & Olufsen stereo and a heated steering wheel. This is a smart buy; all prospective Braptor owners should consider it. Then there are add-ons like forged beadlock-capable wheels, which look cool, but at $1,995, you might want to check out aftermarket offerings first.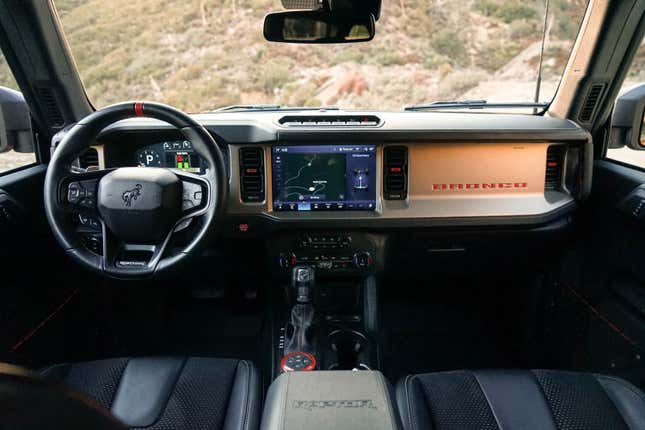 The only options on my test truck were the Hot Pepper Red paint, a keyless entry pad, those beadlock-capable wheels I mentioned and leather seats. The sticker on this vehicle – which is actually a 2022 model, not a 2023 – comes in at $74,690, including a $1,595 destination fee. Here's the kicker: The same vehicle on Ford's 2023 model year configurator commands a whopping $83,470.
I wanted answers, so I reached out to Ford. Mike Levine, director of North American product communications, confirmed that there are no equipment or option-package changes between the 2022 and 2023 Bronco Raptor, and offered the following statement:
"Bronco remains one of our most popular vehicles and we continue to sell every Bronco Raptor we produce."
That's a nice way of saying that Ford thinks it'll sell all the Raptors it makes regardless of how much it charges for them.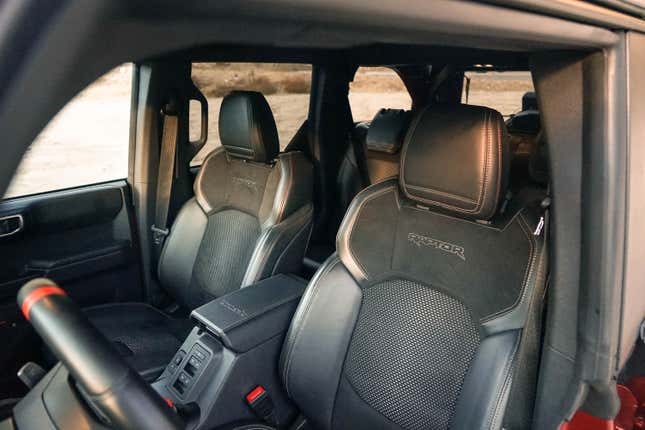 The truth is, even without that colossal price hike, the Bronco Raptor is a terrible deal. Sure, it's an awesome SUV that's unspeakably good off-road, but for significantly less cash, you can get something like a Bronco Wildtrak that will likely do 95 percent of the stuff the Braptor does, at a starting price that's around $20,000 less.

The Bronco Raptor is an incredible machine that makes you feel like a hero while looking like a real world-class meathead. It's more off-roader than all but the most hardcore desert pre-runners will need, and it offers a surprising level of comfort and refinement. Ford did a hell of a job with this one, and unnecessary as it might be, it's 100-percent Raptor.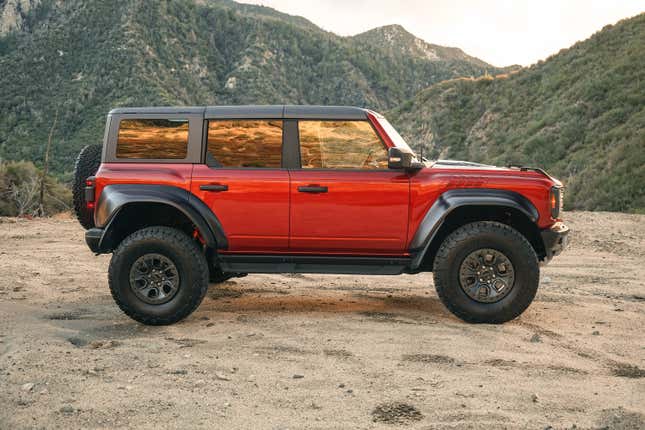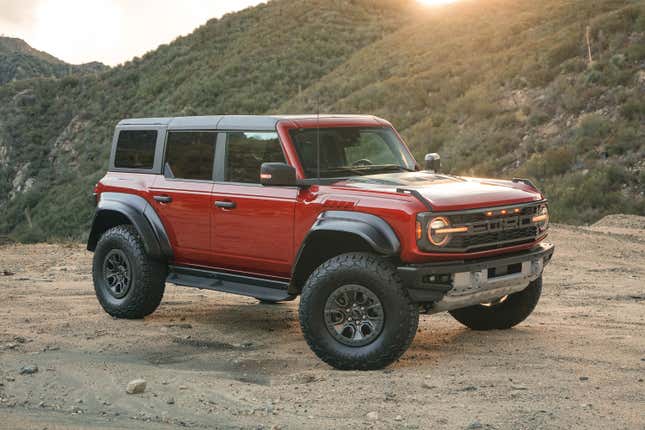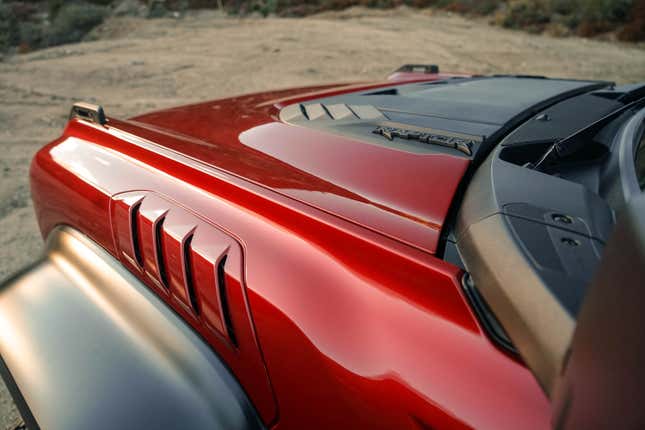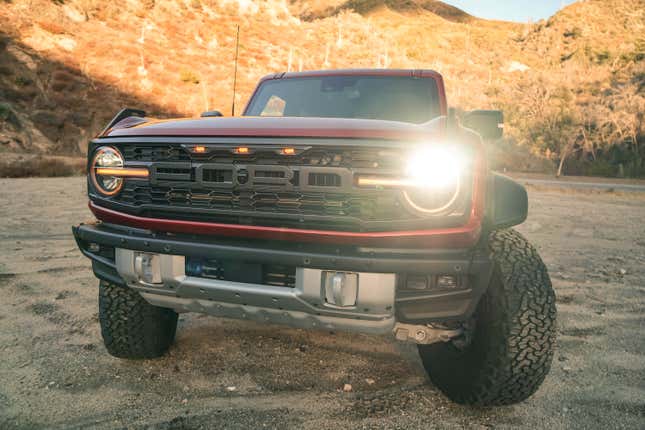 In case you missed it: