Today's Nice Price or Crack Pipe car is called SNIPER. That's owed to its being an S 2000 with a Dodge Viper V10 wedged into its engine bay. I wonder if that will be enough for you to think its seller could also be owed nearly thirty grand for it?
Do you recall when Honda first introduced the production S2000 in the U.S., back in 1999? Back then it represented a number of notable achievements for the marque. It was the only U.S. market Honda car at the time that didn't have a transverse engine. It was also the first front-engine/rear-wheel drive car from the maker since the S800, and that little sports car was never even officially imported here.
Another claim to fame for the S2000 was its engine. That original F20C leveraged every one of its modest 1,997-ccs, and its fancy VTEC cam, to make a heady 240-bhp at an astounding 7800 rpm. Back then that was about the highest output per litre of any road engine available. In the 2,840-kb S2000 it also meant electric performance. That is, once you got deep into those revs.
Of course if your proclivities favor low-end grunt rather than tach spinning heroics, there's no substitute for cubic inches, or so I am told. Bulking up those cubes on this particular Honda meant an additional six cylinders, and a displacement bump for all ten of them to a full 8.3-litres.
G/O Media may get a commission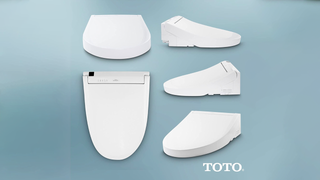 44% off
Toto Washlet Electronic Bidet Toilet Seat
That all comes by way of a V10 that once did its thing in an '06 Dodge Viper SRT10. The big mill puts down 510-bhp, or roughly a little more than double the F20C's output. It does so from a more mezzanine-level 5600 rpm too, while its tree-stump pulling 585 lb-ft of torque comes out to play at an even lower 4200 rpm.
This black over red valve cover 2001 S2000 has somehow had that monster of a mill shoved where the four used to live. I don't know how that's even possible and I wouldn't drive this car past the fire marshal's office lest it be cited for having an engine bay that has exceeded its maximum occupant capacity.
The ad says that the engine has 14K on it, and the car itself rocks but 60K. The engine is joined by the 6-speed gearbox from the Viper, as well as its loom and ECU so it should feel right at home. The Dodge electrics have somehow also been integrated into those of the Honda, and the ad says the S2000 gauges now play nice with the snake under the hood.
Oh yeah, the hood? That's missing in all the pics. Present in the pics however are the AP2 bodywork updates, added hardtop, huge-ass wheels, and that massive motor looming in the bay.
Other mods include an upgraded rear-end and half shafts to handle all the power sent their way, and reconfigured springs and shocks to deal with the increase in both power and weight.
Amazingly for a car with such massive modifications this Honda has a clear title. Typically for so drastic a change you'd expect the builder to have started with a salvage title. Good on the builder for keeping it clean.
As for the current owner's pricing acumen, well we'll just have to see if the whole thing is presently worth his asking price of $27,000. What's your take on this crazy snake - this anaconda Honda - and its price? Would you pay $27,000 for it? Or, is that price a pain in the asp?
You decide!
Syracuse Craigslist, or go here if the ad disappears.
H/T to Alan Lamers AND Danny.Radomski for the hookup!
Help me out with NPOCP. Click here to send a me a fixed-price tip, and remember to include your Kinja handle.