Part of the reason BMWs are so venerated is due to their amazing engines. That's why it's so puzzling that so many people - like the present owner of today's Nice Price or Crack Pipe E36 - decide to dump them for Chevy V8s. Another puzzle for you is whether this LS1-powered coupe is worth dumping nearly thirteen large to purchase.
Drivers of the BMW 3-series coupe are sullied by a stereotyped personality perpetuated by a few bad apple owners, and that stereotype is of being total pricks. In contrast, Chevy's f-body, the Camaro, imbues in their owners the stereotype of being mullet-wearing, Ratt CD owning hicks. 
If one were to combine those two cars - primarily 3-series, but with the heart and soul of a Camaro - would that make the chimerical monster's owner a hiprick? Some things are better left unanswered, but one thing that should be revealed is whether or not today's Camaro-powered E36 is worth its asking price, no matter what its potential purchase makes you.
This '92 formerly 325is now maintains an LS1 from a '99 Camaro, along with that car's Tremec T56 six speed gearbox, a combo good for 315-bhp from the factory. The car itself sports 174,000 on the clock, not unexpected for a car of this age, while the ad notes the LS1 has done 104K over the course of its life.
G/O Media may get a commission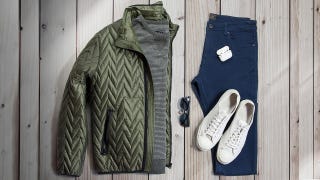 60% off
Jachs NY Fall Sale 60% Off
Not all  the parts have been around for that whole journey, the ad noting that the gearbox, steering rack and suspension squishy parts have all been renewed, as has the rear subframe and 3.91 LSD. In addition to the dropped suspension with its Koni Yellows, the seller claims that the car comes with the stock pieces in case you shouldn't happen to like stance in your pants.
The wheels are BMW M-contours, which in my personal opinion look pretty badass on the E36, and there's both winter and summer rubber in case you, like the seller, live in snowy climes. In fact, if you happen to live in brass monkey-unfriendly Idaho, you could most likely keep the vanity plates that explicitly denote the car as the  LS1 E36.
As far as condition goes, the seller's description is more critical than what appears in the pics, and includes age-borne wear and tear to the paint, and some cracking on the fenders. Dark colors like on this car tend to show off body imperfections the worst and there don't seem to be any major boogers on it apart from what the seller admits.
The interior is equally tidy, featuring a pair of well-aged sport seats and A-pillar gauges to make you feel like a kid again. On the down side, the work mating the Chevy mill to the BMW news and information network hasn't been completed, meaning that the tach reads incorrectly and the A/C doesn't work. Considering the seller noting in the ad that it was below freezing when he took the pics, one can imagine fixing that last item isn't high on his priority list.
Other foibles include a CD player that doesn't play CDs, and an airbag that's as likely to work as your pot smoking brother in law.
In unique contrast to the BMW and Camaro stereotypes, the seller of this LS1-powered E36 comes across in his ad as both earnestly honest and - strange for Craigslist - extremely articulate. There are no egregious misspellings in the ad, nor hyperbolic use of ALL-CAPS. The description of the car is extremely thorough and includes what could be considered some significant issues - A/C, airbag, etc. - that could impact the ad's interest generation. 
Maybe it's time to start reconsidering these stereotypes?
Before you do, it's definitely time to consider the price tag on this V8 E36, which the seller, after significant research and soul searching, has set at $12,900. Since his ad indicates that he is neither a hick nor a prick, does his price tag make this a custom Bimmer you think someone should pick?
You decide!
Spokane Craigslist, or go here if the ad disappears. 
H/T to Civardi AND siegel for the hookup!
Help me out with NPOCP. Click here to send a me a fixed-price tip, and remember to include your commenter handle.