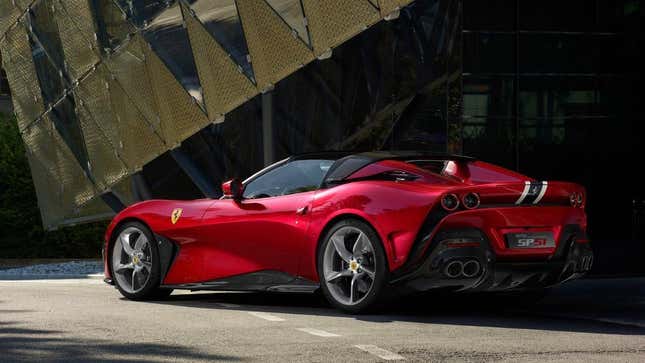 For the last time, Ferrari will not build a self-driving car. Ever. Why? Cause they don't give a shit about self-driving cars. That's why.
Grand Prix is The Best Racing Film That No One Talks About
Who buys a Ferrari without intending to actually drive it, anyway? Let it sit in a garage for decades, sure, but letting some robot put miles on your baby instead of you experiencing it? I think that's actually worse than not driving the cars at all.
In case you missed it:
Ferrari CEO Benedetto Vigna told a crowd gathered for the Future of the Car Summit hosted in London this week that the company wasn't taking one step towards autonomy. While Ferrari is finally falling in line with our electric future after years of full-throated resistance and begrudgingly gave into the SUV craze, Vinga still insists it won't be caught dead in the self-driving game. From Fortune:
The iconic supercar maker's brand is to design sports cars that people want to drive themselves, and capitulating to self-driving technology like others such as Tesla have would be antithetical to the company's spirit, according to Ferrari CEO Benedetto Vigna.

"There are four kinds of software. There is performance software, there is comfort software, there is infotainment software, and there is autonomous," Vigna said at the Future of the Car Summit hosted by the Financial Times in London on Tuesday.

"The last one, we don't care," he continued.

It isn't the first time Vigna or other Ferrari executives have pledged not to go autonomous, arguing that enabling their cars to drive themselves would defeat the purpose of buying one, since most customers who purchase a Ferrari don't plan on being driven around by someone or something else.

It makes sense. Electric cars have certainly established their bona fides as not just green machines but enthusiast-focused autos, like the EV Porsche Taycan and the hybrid Lamborghini Revuelto. In fact, EVs can actually achieve incredible driving dynamics thanks to more equal weight and power distribution. And high-end SUVs are too delicious a moneymaker to resist for long, either.
Autonomous vehicles, on the other hand, currently don't exist on the market and may never exist. While there are some vehicles offering Level 3 Advanced Driver Assistance Systems coming to the U.S. this year, they are only available in sunbaked states like Arizona and New Mexico where weather lends itself to self-driving functions. San Francisco is constantly dealing with self-driving taxis gumming up city streets and, after 10 years and $100 billion in development, self-driving cars still struggle to turn left.
So rather than bucking the industry trend, Ferrari is actually leading the pack in not building an AV. Another brilliant move from a company that seems unable to stop making money.