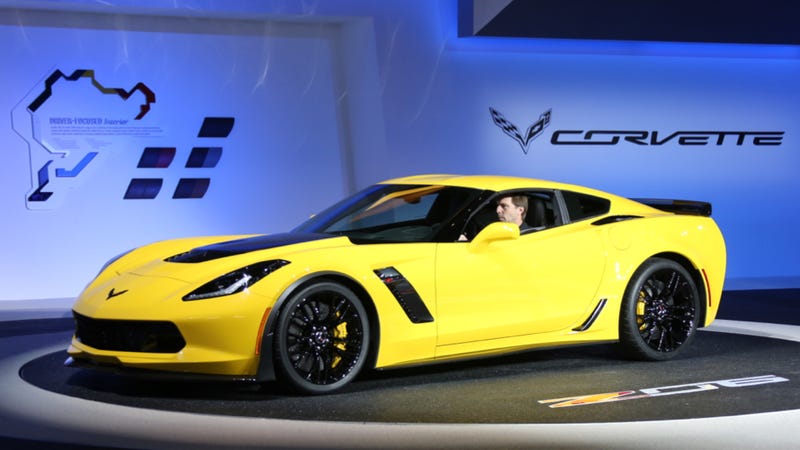 The Morning Shift
All your daily car news in one convenient place. Isn't your time more important?
This is The Morning Shift, our one-stop daily roundup of all the auto news that's actually important — all in one place at some point we randomly decide since it's the Detroit Auto Show. Or, you could spend all day waiting for other sites to parse it out to you one story at a time. Isn't your time more important?
This is our roundup of what you missed yesterday and what you need to know today. We have a ZF nine speed for you this morning.
With the unveiling of the 2015 Chevrolet Corvette Z06, General Motors has done something magical. And that something magical is a loud, yellow, at least 625 horsepower middle finger to every other performance car on the market. USA. USA.
The all-American Cadillac ATS is about as good as modern sport sedans get. Now it's got a version designed to fight off its two-door competitors as well. Meet the Cadillac ATS Coupe!
This design from Toyota's California design studio is a 'halo' sports car for Toyota and it looks absolutely gorgeous. Will they build it? They did say "FT" stands for "Future Toyota" and no one is that cruel?
Thanks to some eavesdropping, we've got the very first full images of Nissan's new Sport Sedan Concept, and it's pretty striking. We've seen it teased in artfully-frustrating low-light shots before, but this is the first full reveal. And it's so very orange.
Porsche knows how to over-engineer a car. We thank them every day for over-engineering a targa top. Specifically, the top of the 2014 911 Targa. It's bonkers-brilliant.
If you're American, you can have the bite-sized BMW 2-Series in about three months when the M235i and 228i make their respective debuts. And the M235i is part of BMW's plan for world domination with the M series.
The 2014 Mini John Cooper Works, the hottest new version of a once-tiny car that's almost the size of an Mk3 Golf these days, got an extreme introduction in Detroit this afternoon by a live rock band a very eager fog machine.
The Volvo Concept XC Coupe is pretty important for the only Swedish car company currently producing cars in any meaningful quality. Good thing it's so very Swedish, if you ignore the Chinese funding.
Audi's development chief Dr. Ulrich Hackenberg presented the Audi Allroad Shooting Brake Concept at the Detroit Auto Show this afternoon as a "combination of the core values of TT, quattro, and allroad" as well as the basis for the next TT appearing later this year. Told you so.