The Morning Shift
All your daily car news in one convenient place. Isn't your time more important?
This is the Morning Shift, our one-stop daily roundup of all the auto news that's actually important - all in one place at 9:00 AM. Or, you could spend all day waiting for other sites to parcel it out to you one story at a time. Isn't your time more important?
We're doing a special one this morning because of the LA Auto Show, which you can follow along using this tagpage all day long. Here are some highlights.
---
1st Gear: The Mercedes-Benz SLS AMG Black Series Is An Energy Drink You Can Drive
HELLO I AM DRIVING A VERY EXPENSIVE MERCEDES-BENZ CAR. IT IS A MERCEDES-BENZ SLS AMG BLACK SERIES. OH, YOU HAVE AN SLS GT? I'M SORRY DOES YOUR CAR HAVE 622 HORSEPOWER? I DIDN'T THINK SO. GAHHHHHHHH!!! More »
---
G/O Media may get a commission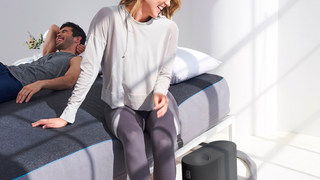 Eight Sleep Pod Cover
2nd Gear: The Mazda6 Diesel Is Coming To America
The show floor hasn't quite opened yet, but crack Jalopnik operatives have dressed in our special trash can costume (a trash can with feet holes) and got photos that prove that Mazda's new SKYACTIV-D diesel engine will, in fact, be an option for the Mazda 6. This was widely speculated, and now we have proof it's going to happen. More »
---
3rd Gear: Acura RLX: This Thing Has Sixteen Freaking Headlights
Acura just unveiled their new flagship sedan, the RLX, and there's two things you'll notice right away: it's kind of boring looking, but, damn, does it have a lot of headlights. Like eight per side. Sure, they're small LED units and not the colossal sealed-beams of yore, but still, it's some pretty aggressive face-jewelry for what is otherwise a fairly elegant if restrained car. It sort of like if Helen Mirren smiled to reveal a massive, diamond-studded grille. More »
---
4th Gear: The Hyundai Veloster C3 Roll Concept Is A Veloster With Less Roof And More Bicycle
The Veloster is one quirky little car. A gaping grin? Two doors on one side and one on another? OH YOU!
Well, now they've gotten even quirkier with the Veloster C3 Roll, which appears to be a Veloster convertible for people that like aqua colored wheels and transporting bicycles. More »
---
5th Gear: Hey, The New Kia Forte Looks Pretty Good
We drool over truly beautiful, relatively low-volume car designs like the Jaguar F-Type and the Porsche Cayman, but there's something to be said for regular family cars that don't suck. On that note, take a look at the 2014 Kia Forte. More »
---
6th Gear: Volvo S60 Polestar Concept: The First 508 Horsepower Swedish Sexy Liveshots
No, you're not dreaming, a racing company has built a 508 horsepower Volvo S60. It's the Volvo S60 Polestar Concept and we had to see it with our own eyes to believe it's real.
This car is a VILF. More »
---
Neutral
In keeping with our new discussion system, here's a place for you to own the floor. We're asking each day what you think about an issue that comes up in TMS.
Today, we want to know what has made you drool thus far at the LA Auto Show? The super hot Jag XFR-S? The new Porsche Cayman? The Fiat 500L? Something else? Remember there's no right answer or wrong answer. It's Neutral.
Show us your tips!
Got tips for our editors? Want to anonymously dish some dirt on a competitor? Know something about a secret car? Email us at tips@jalopnik.com.
Lost in our new layout?
Click here for the Opposite Lock or Tips forums. Want a more "blog-like" look? Click the button up top next to "Top Stories."
Get more Jalopnik!
Want even more Jalopnik? Want to know which of your friends read us? "Like" us on Facebook, follow us on Twitter, and subscribe to our newsletter.