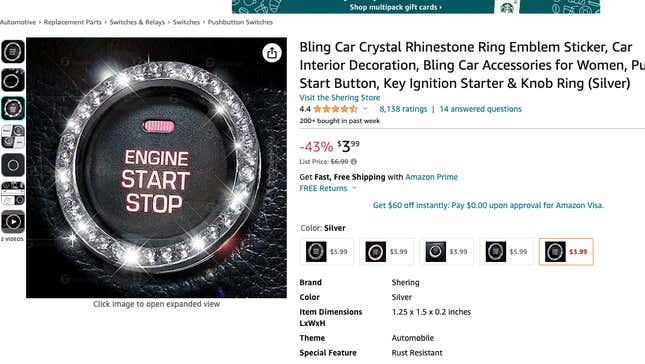 If you're a real car enthusiast, you've probably been tempted to grab one of these "Bling Rings" from Amazon to kind of "jewel up" your car's starter button. Understandable, we all have those thoughts, it's perfectly normal. But, some of us are finding that applying these beautiful little rings to our starter button results in a no-start condition when the rings block an RFID signal that's meant to tell the ignition system that the original key is onboard.
Apparently, this is a real issue. According to a story that's making the rounds, —and let's be honest, it's not exactly hard-hitting, well-sourced journalism — bling ring owners just like you and me have applied the little stickers to their cars, only to find that they would no longer start. At least one woman, Arizona's Shiffra Steele, took it to a mechanic, who also failed to diagnose the issue, but not before racking up some hours, naturally. From the story:
She stuck it on, went to bed, and the next morning, set out in her car.Or tried to. Steele''s car wouldn't start, and she had no idea why. So she recharged the battery. Nothing happened. "Then I called my neighbor, he couldn't get it started," she said. So Steele had the car towed to a mechanic. "He had the car for about four days and he couldn't figure it out," Steele said.

So she had the car towed again — this time all the way to a dealer in Ukiah. No one could find the problem. "They had locksmiths there, they tried all of their troubleshooting and nothing worked," she said. Then in passing, Steele mentioned that "bling ring" on the ignition — and bingo. "He said, 'Oh, we've seen that before,'" Steele said.

The mechanic simply peeled off the bling ring — and presto. The car started right up.
According to the story, "Amazon does have a warning on the website about the Bling Ring, but it's buried in small print. It says: "Please do not apply to car ignition if your car has anti-theft alarm. It messes with the electrical system..."
Are there cars new enough to have push button start that don't have an RFID key system? Doubt it! Unfortunately, it seems that many automakers weren't thinking about bling rings at all when they designed the cars we all love, but would love more if they had a bling ring.