As you likely know, famous auto customizer Dean Jeffries died this weekend. While many of the cars and techniques Jeffries created are well known, Jeffries himself was a bit more reserved about his own accomplishments than certain contemporaries of his, and as a result, probably isn't as well known as he deserves. Let's try to fix that, starting with these eight facts:
1. He was the first guy to figure out how to use metalflake paint
It's hard to imagine the hot rod/custom car movement without metalflake paint, and Jeffries seems to have been the first person to actually figure out how to use the stuff. He may have been the first to paint a car in metalflake as well, but that claim is a bit contested.
G/O Media may get a commission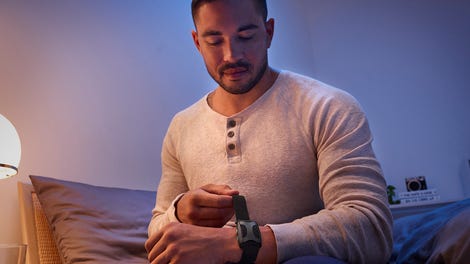 What we do know is that the Metalflake Corporation of America developed a paint that contained suspended tiny flakes of aluminum, and it looked absolutely amazing. The problem was nobody was able to get it to spray in a consistent or even manner, due to the high particulate content of the paint. Jeffries experimented with the paint extensively, and eventually found higher pressure settings that yielded good results.
The first car he may or may not have painted was a '32 Ford hot rod roadster owned by Dick Scritchfield. Some sources say Jeffries painted it, but Dick claims he painted it himself. Either way, Jeffries seems to have been a crucial pioneer in figuring out how to paint in metalflake.
2. He learned the basics of pinstriping from an old German furniture and piano decorator
During the Korean war, Jeffries found himself in the Army, stationed in Germany. A quick glance at your large globe-that-opens-into-a-bar will tell you that Germany was not likely to see much fighting in the Korean conflict. As a result, Jeffries, who was working with Army cartographers, had enough spare time and freedom to buy an old Horch and do some exploring.
In the course of these ventures, Jeffries met an old German craftsman who painted pinstripes on furniture and pianos, and taught Jeffries the fundamentals of the trade. As it says in Dean Jeffries: 50 Fabulous Years in Hot Rods, Racing, and Film:
The gentleman taught Jeffries the art of striping using thin brushes and a steady hand. Before long, the Horch was pinstriped from bumper to bumper, and Jeffries was beginning to get itchy.
I should make it clear that the itchiness referenced there referred to Jeffries desire to get back to the US and start a pinstriping business, and not some post-war Europe STD.
3. He worked all in metal, no fiberglass or Bondo
Now, I'm not saying that Jeffries never touched fiberglass or Bondo, just that he was using all metal for his wild custom cars when most of his peers would use the much easier to work with fiberglass. For his first real dramatic custom car, the Mantaray, Jeffries only used metal. The Mantaray was made when Jeffries decided he needed a dramatic and wild custom to show what he was capable of, so he could get more work.
The Mantaray turned out incredibly well. Jeffries never had any pretentions of being an engineer, so he sourced an existing chassis for the car: a Maserati Formula 1 Grand Prix car that his father-in-law, incredibly, had rotting in his yard. Jeffries took the car, discarded the engine and body (which he later realized was a big mistake, considering how valuable those parts are) and redesigned the body.
The body was designed right on the chassis out of 1/4" steel rod forming a wire-frame template, over which 86 pieces of aluminum sheet metal were contoured to form the sinuous body. It's said you couldn't even see the weld lines anywhere on the car. He even made his own plastic bubble-top, by blowing air via tube into molten plastic until he had a bubble the size he wanted.
4. He was the first to airbrush on clothing
I'm not saying all of these things ended up being wonderful contributions to humankind, but it does seem Jeffries was the first to use an airbrush to paint on t-shirts and other clothing. It's not really too surprising this happened — you have an artist working with airbrushes all day, it's really just a matter of time before a T-shirt or jacket comes off in a moment of boredom and gets something airbrushed onto it.
It really probably could have happened to almost any of the airbrush-slingers at the time, but Jeffries seems to have been the first that anyone noticed actually did it. So Ed Hardy better send the guy a big-ass wreath.
5. He was way less of a dick than George Barris
Way, way, way less of a dick. Jeffries gets understandably emotional when discussing Barris, because Barris seemed to be hell-bent on taking credit for everything Jeffries did. Barris falsely claims the Monkeemobile, Green Hornet's Black Beauty, and even something as minor as painting "Little Bastard" on James Dean's Porsche Speedster.
For the record, Jeffries never seemed to have taken credit for any cars he didn't build himself.
6. He made it seem like Carroll Shelby had more than one car
When Carroll Shelby first started his company, he had one great thing going for him: a really lovely and fast car called the Cobra. Unfortunately, he had one great thing going for him. That's where Jeffries came in. Shelby desperately needed to show his Cobra and seem like he had many more produced than he actually did. So, as Jeffries told Motor Trend Classic,
I redid that first Cobra for Shelby — painted it, too. Shelby couldn't even afford to pay me; he hadn't gone to Ford yet. So we loaded that Cobra on a crappy old trailer and off he goes to Ford — says, "I'll pay you when this thing clicks." Well, he goes and he gets tied up with Ford — booms out, 90 miles an hour! But he only had one car! So he comes back, and now he's gotta show everybody that he's got all these cars. So I'm painting that damn car over and over...they show it one day, then at night I paint it again, and the next day he shows it somewhere else. It was like he had five cars, but there was only one!
7. He was probably the first person to customize a Porsche 356
Porsche 356s had been customized for racing purposes before Jeffries got his hands on one, but his customized, hot-rodded 356 is likely the first one to be modified for purely aesthetic reasons. Jeffries bought his 356 Carrera in 1956, and proceeded to cut off the original front end. He built a wireframe template describing the new planned contours for the front, which was then made with a single sheet of aluminum over the template.
Jeffries modified 356 had a longer nose with Frenched-in headlights and and extra set of driving lights, was dechromed and de-bumpered, had custom taillight lenses made from cast plastic by Jeffries, a new set of roof vents and a custom engine-lid air scoop. The end result was quite striking and sleek, and sort of resembles a Panoz. I wonder if the Panoz guys used this as a styling inspiration?
The car had an interesting later life as well. Jeffries had to sell it due to a divorce, and unknowingly sold it to an FBI most-wanted bank robber named Albert Nussbaum.
8. He was also stunt driver, on top of everything else
His stunt career seems to have started when he drove his Mantaray in a Frankie Avalon movie because Frankie Avalon couldn't drive stick. It got bigger after that, according to the Motor Trend Classic interview:
They'd hire me to build cars, then sometimes they'd have me drive, too. I worked on "The Blues Brothers" — we must've smashed a couple hundred cars on that one. I also once jumped a five-ton truck down in Florida for "Honky Tonk Freeway." I ended up breaking my back when I landed, and I couldn't move my legs to stop the truck — I was going over 100 mph. So I just reached up with my arm and pushed my leg onto the brake and skidded to a stop. Afterward, I didn't tell nobody. And I was real scared of doctors after this big-time movie star had died during a back operation.

So I just told my wife to drive me home to the shop. I took a piece of aluminum, wrapped it around some sheepskin around my waist, and sucked it tight to hold my back straight. I also built this thing to let me hang upside down and stretch out my back; I did that three or four times a day. It worked okay. Only problem is, today when I get up out of a chair it isn't quite right.
(Sources: Motor Trend Classic, Kustomrama, Jalopy Journal, Street Rodder, Dean Jeffries: 50 Fabulous Years)