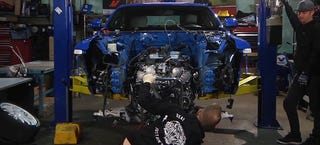 Last year they built a quick beginner's drift car for around $5000. Now they're bringing a thrashed old Nissan 240SX back to decent shape and installing a twin turbo setup on a factory-fresh 370Z, too!
This should be a great new season from Formula D's Ryan Tuerck and reigning champion Chris Forsberg. Both extremes of the drift building scene get covered here, from Tuerck's super beater old missile (built to match the one Forsberg has) to Forsberg's fancy street car (built to match Tuerck's bonkers straight six FR-S).
There are lots of neat little tricks even in this first episode, like how it's easiest to get the V6 engine out of the 370Z from the bottom, just like an old Ferrari.
Can't wait to see the rest of the season!
---
Contact the author at raphael@jalopnik.com.