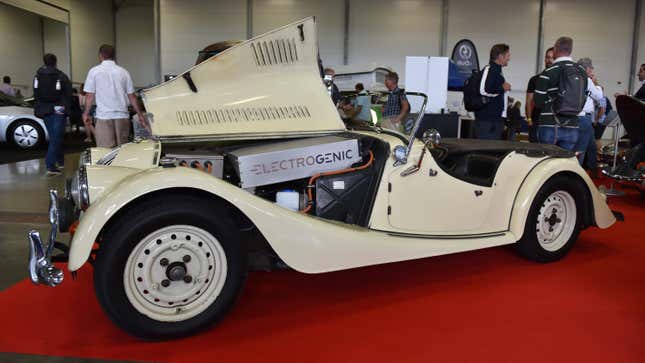 The electric era is coming, whether we all like it or not. It's an exciting time — new propulsion methods, new forms of tuning and modifying, a whole new world of power adders to consider. But if you're thinking about updating your classic car to the 21st century, you might want to hold off for a few more years.
The folks over at Hot Rod EV-swapped a '57 Chevy (because Hot Rod), and found that the process only made sense on a magazine budget. The estimated all-in cost of the build — even excluding labor — was "well north of $50,000," according to writer Steven Rupp. On a shadetree budget, the financials simply don't work out.
The appeal of EV-converting an existing classic is simple enough to understand. Ample power, instant torque, perfect reliability — all those things that old cars tend to lack are just par for the course with electrification. Sure, some may decry the lack of "character," but it all comes down to the experience you want out of a car. If you want to be tuning carbs, messing with jets and seals, there's nothing stopping you. But if you're more interested in just cruising down the highway in classic style, electrification may well be your best bet.
At least, it will be, once prices come down. As manufacturers continue investing in EV drivetrains, the fruits of that labor will eventually show themselves for enthusiasts — whether as factory-offered parts, or as assemblies pried from wrecked EVs in scrapyards. But until that happens, until there's more widespread adoption of electric vehicles, the costs simply don't make sense for individuals. Keep your EV-swap dreams in mind, but maybe give it a few more years before acting on them.