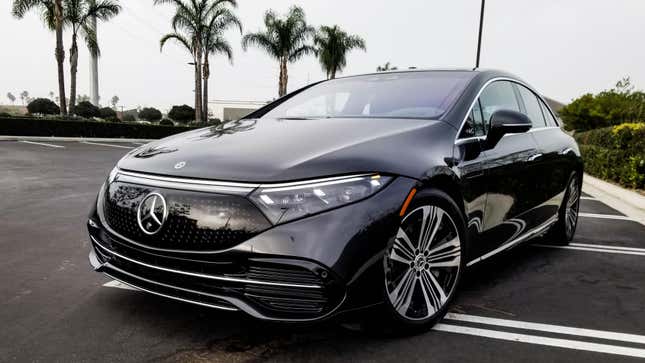 Due to various factors, consumer demand for electric vehicles is cooling off and some dealers are sitting on too much inventory. What this means for the rest of us, is that the car market that was so unfavorable to buyers as of late, is starting to look like the good old days of big discounts and competitive deals.
This trend started in February when the new tax credit rules went into effect and essentially eliminated many EV/PHEV cars from qualifying. I bet no one could have predicted that if the government removed a large financial incentive for buying an EV, people would be less likely to shift away from a gas-powered car. However, even cars that still qualify for the $7500 tax credit are also experiencing a drop-off in consumer interest. The result is that some of these cars can be scored with hefty discounts under MSRP, which is a nice change of pace from the markups that were once commonplace.
In addition to the deals on the Korean and VW EVs mentioned in the previous post, here is a sampling of what the market is doing for a variety of EV and PHEV models.
Deals, Rebates On All-Electric Models
In some areas Ford is offering a $3,000 rebate for "aged inventory" combined with aggressive dealer discounts this means you can potentially can score a Mach-E at $10,000 off MSRP.

While not as dramatic as the Mach-E, even the F-150 Lighting can now be bought at reasonable prices, which is a nice surprise considering it was typically selling for significant premiums over sticker price when it first launched.
The Toyota Bz4x and Subaru Solterra have gotten mixed reviews, but buyers who can live with the flaws might be enticed with discounts over $7,000 off the MSRP.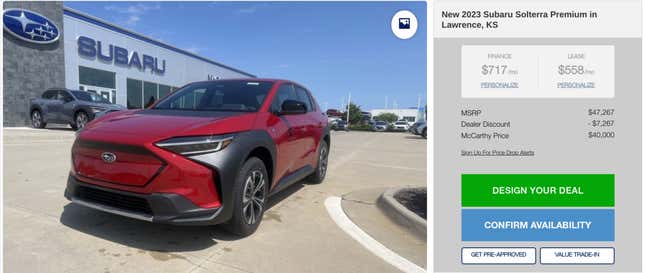 Luxury automakers like Audi, BMW, and Mercedes aren't advertising their deals as publically, but for those interested in leasing one of the expensive EVs there are some bonkers deals. Here is an example quote on a Mercedes EQS-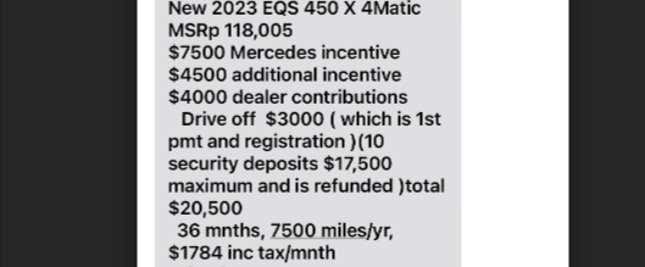 Now, an almost $1800 a month lease payment looks like a mortgage payment for most folks, but when you look at the ratio of monthly payment to the MSRP, it's a pretty awesome deal.
Deals, Rebates For Plug-In Hybrid Vehicles
For buyers that aren't quite ready to jump to a full EV, plug-in models from Jeep and Chrysler have some heavy rebates on the hood as well.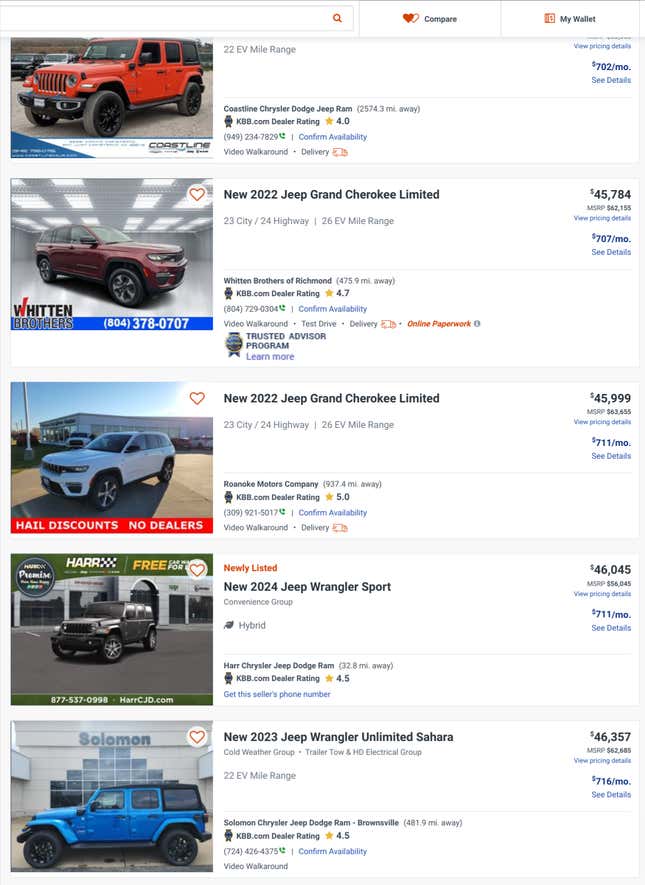 Although for the Stellantis-made cars, the big discounts mostly apply to leases and only buyers in CARB states will get the deals.
While many of these offers are worth jumping on now if you happen to be in the market for these kinds of cars, historically, rebates and discounts get even stronger the closer we get to the fall. So it may be worth playing the waiting game just a bit longer
---
Tom McParland is a contributing writer for Jalopnik and runs AutomatchConsulting.com. He takes the hassle out of buying or leasing a car. Got a car buying question? Send it to Tom@AutomatchConsulting.com