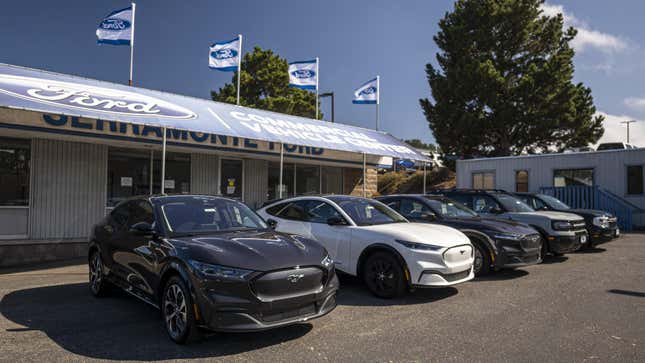 The problem with EVs was once limited supply, but it has now become demand. In the U.S., EVs are sitting on dealer lots for far longer than their gas-powered counterparts and piling up as buyers mostly continue to overlook fully-electric cars, as Axios reports. Despite carmaker lineups filling out with new EV models and the production thereof ramping up, people are still worried about charging and the pricing of EVs.

Honda's Motocompacto Is The Ultra Portable E-Scooter That Can Fit Just About Anywhere
The latest reports from Cox Automotive indicate that car buyers are much more interested in EVs now than in the past: 51 percent of buyers who participated in a recent Cox survey are considering buying a new or used EV, which is up from 38 percent in 2021. And Cox says that EV sales will break the 1 million mark for the first time in 2023, with sales reportedly accounting for about 6.5 percent of the entire auto market in the U.S. so far.
Even so, it looks like EV supply is outstripping demand by a significant margin. The nation's fully-electric cache is reportedly up by 350 percent this year, with nationwide inventory sitting at over 92,000 vehicles. That translates to a 92-day supply of EVs, which is almost twice the current average for gas-burning cars.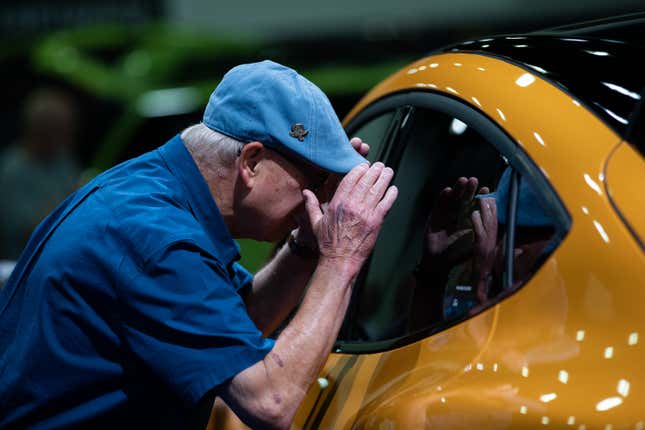 The healthy supply of EVs may not seem as alarming considering that the industry average is a 70-day supply during "normal times," per Axios, but ICE-equipped vehicles currently sit at a 54-day supply. And hybrids are having a particularly good year, with supply down to 44 days. Plug-in and traditional hybrids from Toyota are making the best of 2023, with current supply for the Prius and RAV4 sitting at under 30 days each. Axios claims that this reaffirms Toyota's argument that car buyers need a "stepping stone" from ICE to EVs.

As if the popularity of Toyota's hybrids wasn't enough, the Japanese carmaker's stepping stone argument may be reified by the fully-electric Toyota Bz4X sitting on dealer lots for a long 101 days — nearly double that of gas-powered cars on sale today. Then again, it might be unfair to lump in all EVs with the Bz4X, which has been beset by recalls and other issues. The thing is, the Toyota Bz4X isn't the only EV that's languishing on dealer lots.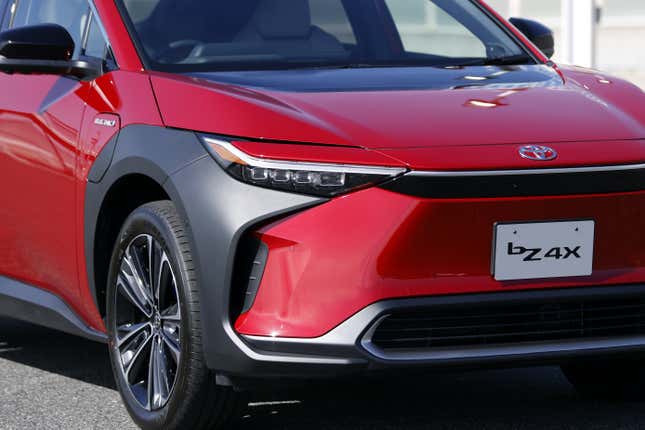 The Audi Q4 e-tron, Q8 e-tron and GMC Hummer EV SUV are currently sitting at inventory that's easily over 100-day supply. The Ford Mustang Mach-E is at a 117-day supply, although Ford says it expects a surge in demand in the coming months. We'll see. The Genesis Electrified G80 currently comes in with the longest day supply at 350 days. In fact, the South Korean carmaker has managed to sell only 18 of the sedans within the first half of 2023. The luxury EV's roughly $82,000 sticker price may have something to do with that, as well as the car's ineligibility for federal tax credits given its high price.

Whereas the industry was previously dealing with supply chain woes that limited the production of EVs, it seems like supply is no longer the problem. These cars now have what Elon Musk has called a "demand problem" in the past. But it's not all doom and gloom — allegedly. EV prices are due to reach price parity with ICE-equipped vehicles by 2025, or so, according to industry analysts. Hmm. Where have we heard that before?