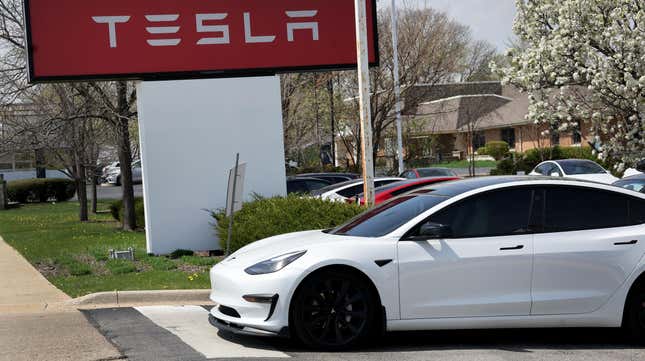 There is a thing that automakers do when they want to get rid of new cars to make way for even newer cars, and that is that they offer discounts and incentives for customers to buy the old product, so that they can sell newer products for more money, because that is the circle of life. Frequently, this is to make way for a new model year, or even a new generation of a car — that's what automakers usually mean when they say "all-new," they mean this is a new generation of the model, not just a regular new model year — but Tesla has always tried to pretend that they do things differently.
Tesla doesn't do model years, for one, though they do like to play games with pricing. That isn't to stoke demand, however, because Tesla doesn't have a demand problem, they have a supply problem, or at least that's what CEO Elon Musk likes to insist. Tesla's cars also update over-the-air, which is why Tesla doesn't need to bother with model years, since you'll always have the latest version.
This is all sort of nonsense — Tesla could credibly claim to be different in its infancy but for years now it's been more or less a regular car company — though that's never stopped Tesla. Still, every week or even every day now, we're reminded of just how normal a car company Tesla is. One of the latest examples is a Wednesday story in Reuters that says that Tesla is doing something strange: It's planning to launch a new version of one of its models and offering money off on the current version of that model as a result.
Tesla Inc has doubled discounts on some already made new Model 3 electric cars and offered discounts on the Model Y and others in its U.S. inventory to entice buyers amid economic uncertainty, rising competition and the upcoming redesign of its mainstay model.

In California, a Model 3 variant in inventory was priced at $42,060, a discount of $2,680 to the price of newly ordered cars, according to its website. That is double the $1,300 discount on Model 3 cars offered less than two weeks ago.

[...]

Facing economic headwinds, mounting competition and rising production, Tesla this year has aggressively cut vehicle prices in many countries and is resorting to the traditional automakers' tactic of offering incentives to clear inventory, analysts said.
The story notes that a new Model 3 is being launched this year, and that the Model Y is also changing a little bit, with some new hardware or such, though if you wait a month or several you might have the chance to buy a different Model 3 or Model Y, the price of which will probably change several times in the interim. Whether any of it is a "deal" or not seems mostly dependent on how one feels about Tesla, though also thinking of car buying in such a way really takes the fun out of it. It shouldn't be long now until Tesla has an annual sales event just in time for the holiday season.