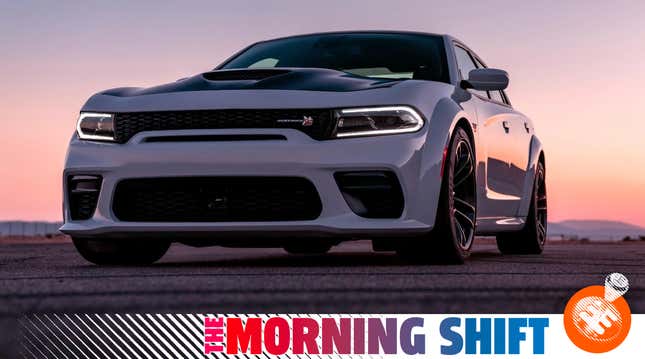 Ford CEO Jim Farley and Tesla CEO Elon Musk are frenemies, auto lenders are worried, and Dodge. All that and more in this edition of The Morning Shift for Monday, May 8, 2023.

1st Gear: Smoke 'Em If You Got 'Em
Dodge Challengers and Chargers with internal combustion engines are going extinct because Dodge is the latest company to be caught up in woke-ism, very sad for all involved. In their place will be — take a breath — some electric vehicles. Challengers and Chargers are dying as they lived, with a seemingly endless amount of new trims. Sales have been good, according to Automotive News:
The Charger has had sales gains for the past four quarters, while the Challenger just posted its third consecutive positive quarter.

Dodge CEO Tim Kuniskis attributes the rise to an easing of the microchip shortage as well as the sense of urgency the brand has created with its "Last Call" run of seven special editions that includes the 1,025-hp Challenger SRT Demon 170 launched in March.

Kuniskis said Dodge doesn't sell cars that people need. Consumers, he said, buy its products because they want them.

[..]

When people consider aspirational products they don't truly need, their purchase timeline could extend for years. In the past, he said, customers might have said they'll buy a Scat Pack "someday."

Dodge sped up that process by emphasizing that these vehicles are on the way out.

"The Last Call did create a timeline," Kuniskis told Automotive News. "Because all those people are thinking I'm going to get a muscle car someday — someday I'm going to get it. I'm going to get a Scat Pack, I want a Challenger someday. Someday, someday. Well, guess what? We just told them when 'someday' was because we said this is it."
Hell yeah. I'm guessing that some plurality of Charger and Challenger buyers think that these cars will appreciate in value in the coming years, and that stuffing one into a barn today is a license to print money in a couple of decades. Maybe they're right, who knows, but there's certainly no fun in that.
2nd Gear: Ram Tease
On Friday, Ram teased one of its latest creations, to debut on Wednesday.
Autoblog thinks that this is some sort of midsize pickup truck, a competitor to the Ford Ranger and Ford Maverick, two midsize trucks. Maybe it'll be a Ram 1000 or 1200, or possibly even Rampage. Whether this is even for America or not is also still an open question, though it seems doubtful that whatever it is won't be small, by historic standards, especially if it is sold here. America doesn't do small pickups anymore.
3rd Gear: Farley vs. Musk
None of this is very new, exactly, but The Wall Street Journal on Sunday catalogued the frenemy relationship that is the ties between Ford CEO Jim Farley and Tesla CEO Elon Musk, which basically consists of a bunch of schoolyard banter and G-rated dad shit-talking.
"There's no doubt about it. The demand for Tesla is changing, and in some sense is deteriorating," the Ford F 3.72%increase; green up pointing triangle CEO said at a Wall Street Journal event Wednesday when asked about Mr. Musk, who leads Tesla.

[...]

At an event in August, while referring to the ramp-up in production of Ford's F-150 Lightning truck, Mr. Farley directly addressed his competitor: "Take that Elon Musk," he quipped.

Mr. Musk responded on Twitter: "Thanks, but I already have one," he said in a nod to Tesla's Cybertruck.

[...]

The CEOs have also sniped at each other. Two years ago Mr. Farley took what seemed to be a veiled jab at an upgraded suite of Tesla advanced driver assistance features that customers were testing on public roadways. He compared Tesla's system with one Ford was introducing at the time, called BlueCruise.

"BlueCruise! We tested it in the real world, so our customers don't have to," Mr. Farley tweeted in April 2021.

Mr. Musk responded, "I found some footage of the drive," and posted a clip from the movie "Tommy Boy," in which Chris Farley, the late comedian who was also Mr. Farley's cousin, screams as he drives out of control on the wrong side of the highway.
Mark Twain once never said, "Never argue with stupid people, they will drag you down to their level and then beat you with experience," though Farley would probably do well to take that advice anyway, because Farley seems in a bit over his head, as he isn't arguing with stupid so much as chaotic delusion. Never argue with Elon Musk, he will drag you down to his level and then make a dated reference to a movie that has nothing to do with anything.
4th Gear: Rivian
Tomorrow, Rivian, a startup which makes electric trucks, will report its earnings results for the first quarter, and in large part quarterly earnings are about expectations, not necessarily the actual bottom line. Rivian has seemingly done a good job of setting expectations low, because their delivery numbers for the first quarter were already down compared to the fourth quarter of 2022.
From Automotive News:
"Production levels were low — and expected to be low — in that Q1 time frame," Rivian CFO Claire McDonough said at an investor conference in early April. The vans are built under contract for Amazon.

The production changes will lower costs over time and find their way this year to the assembly line that makes the R1T pickup and R1S crossover, McDonough said. Having an in-house motor in addition to a third-party motor will also ease supply-chain issues that have constrained production, she said.

Rivian is likely to post a net loss moderately smaller that the $1.7 billion it reported in the fourth quarter, Zacks Investment Research said in a May 1 note. Revenue is expected at $686 million versus $663 million in the previous quarter, Zacks said, citing the market consensus from analysts.

The automaker launched the R1T in late 2021 and the R1S last year. Its production ramp-up at its Normal, Ill., plant has been significantly slower than originally forecast.

Rivian expects to make 50,000 vehicles this year but did not break down that number by model. In 2022, Rivian reported production of 24,337 and deliveries of 20,332.
No one seems to be sounding too many big alarms about Rivian just yet but a projected loss of a little less than $1.7 billion doesn't seem sustainable long-term.
5th Gear: Auto Lenders
Companies who loan money to people to buy cars are not among the most sympathetic characters in the industry, especially on the bottom end. Still, they are indicators of sorts of where the car buying economy is headed, and in that sense it seems somewhat notable that Automotive News notes that lenders are worried. They are worried about fraud, specifically, in case the broader economy gets worse. The fraud, apparently, is from all comers:
Auto lenders polled by artificial intelligence and data provider Point Predictive for its 2023 Auto Lending Fraud Survey fear worsening economic conditions could push loan fraud and defaults higher this year.

The survey showed 70 percent of auto lenders are preparing for a declining economy this year compared with 2022. Another big concern was that fraud was on the upswing.

[...]

Income misrepresentation was the biggest fraud concern, the survey showed. Synthetic identity risk and dealer fraud also were worries. Pay stub forgery is still a problem for auto lenders, the majority of whom said they believe as much as 10 percent of pay stubs are false or fabricated.

Early payment default on auto loans indicates origination fraud, according to 91 percent of survey respondents. An early payment default occurs when a loan defaults within six months after the borrower buys and finances the car, McKenna said.

More than half of lenders surveyed this year said dealer-perpetrated fraud is a serious concern. Last year, 10 percent of lenders said they stopped working with 50 or more dealers because of fraud, Point Predictive said.

The four main types of dealer fraud, according to McKenna, are high levels of identity theft; income fraud; power-booking, a term describing a dealer inflating a car's value by listing options that aren't there; and high levels of loan default.
Auto News also quotes a sergeant with the Houston Police Department who said that in 2022 they did dozens of investigations into car loan fraud that "yielded $8.8 million," which may or may not be a big number to auto lenders. The story's overriding implication, though, is that out there it is close to every person for themselves.
Reverse: Bond
Neutral: How Are You?

I saw some dude absolutely cream the Nissan in front of him on Grand Central Parkway this weekend. The Nissan's rear end was just trash afterward, though they both managed to limp to the side of the road seemingly without injury.