The front wheels on today's Nice Price or Crack Pipe Mazda have a lot of work to do, namely channelling upwards of 263 horsepower to the ground. The rest of the car may be just along for the ride, but let's see if you'll go along with the price.
Car culture is much like that music festival your local Public Radio station puts on every year—it's filled with a panoply of different interests, backgrounds, and lifestyles. They don't all appeal universally, but you will find some crossover, especially amongst those with similar elements—like House and EDM or rock and... um, other forms of rock.
The Stanced Car Crowd (SCC), as represented by yesterday's 1993 Volkswagen Passat wagon, is one automotive subculture that's really not well loved outside of its staunchest supporters. That was plainly evident in the comments the tidy wagon drew, as well as in the 67-percent Crack Pipe vote given its $5,000 price.
That's all not to say we don't like the occasional car that gets down and gets funky. We all generally appreciate a little bit of a drop—it's common practice when a manufacturer decides to offer up a sportier version of a more mundane model and we all like when they do that.
G/O Media may get a commission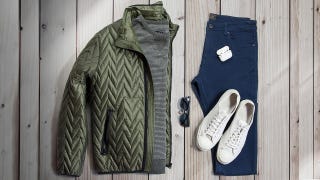 60% off
Jachs NY Fall Sale 60% Off
Your basic Mazda 3 is not, in all honesty, all that mundane. It's really one of the better handling, and more engaging small cars out there. Of course, you can always make good better, and that's where today's 2007 Mazda Speed 3 comes in. You want faster and funner? Well, Speed's the name and torque steer's my game.
Just a quick note: I've been vacillating on just how to spell this car's name. I've tried Mazdaspeed3, Mazda Speed3 and Velocidad tres de Mazda, and honestly none of them looked right. I finally settled on Mazda Speed 3. Don't @ me.
Whatever the name, this 82,000-mile red rocket is representative of Mazda's attempt to make the 3 a more aggressive ride, and across the board they were pretty successful. The Speed 3's suspension received fatter antiroll bars front and rear along with heavier spring rates for less roll in the corners. Brakes gained front calipers off the Volvo S40 and a bigger volume booster for more force. Of course, there's ABS, traction and stability control to keep things from getting too out of hand.
The 2.3 mill is where the Speed really shows up its lesser brethren, That's been pumped up by a turbocharger and topped with an air to air intercooler, which when combined imbues the DOHC four with a whopping 264 horsepower and 280 lb-ft of torque.
All that gets routed through the 6-speed manual transmission, GKN-sourced limited slip differential, and on to the font wheels. Yes, torque steer is part and parcel with these cars, but there's a computer nanny to help make sure you don't spin into a tree or something. The CPU reads steering position and will back off on the throttle if you try and dump it with too much angle in your dangle.
That doesn't mean the car isn't a hoot to drive. These have gained a loyal following for their aggressive nature and overall packaging. The only real black mark on the experience is the shifter feel, which is terrible.
This one looks about as good as you would imagine it is to drive. The True Red over black and grey color scheme is all factory, and as you might expect from the competing VW GTI, the interior features red stitching on the seats.
The bodywork looks straight in the pics, and free of any major flaw. Down below that, a set of aftermarket Enkei alloys underpin. Those aren't the only mods this car has seen, just the most obvious. Also included, according to the ad, are coilovers on the corners, a cold air intake and a 3-inch down pipe leading to an aftermarket exhaust. Does that all add to the ponies the car makes? Probably not that you would notice, but I'll bet it sounds a lot more raucous as a result of the additions.
The interior seems to be in decent shape with the exception of the front passenger seat. That appears to have some sort of broad stain spreading across the squab. Maybe that's just a trick of the light in the pics, or maybe somebody peed in there. I had a cat pee in one of my cars once and man was that a tough smell to get rid of. I even thought about calling in one of those exorcists.
Pee smell or not, the seller says this car does come with a clean history and a clear title, has not been smoked in, and is a blast to drive. I think those are all strong advocacies. What we need to determine is if its $6,450 price is also a plus.
What's your take? Is this torquey Speed 3 worth that $6,450 asking? Or, does that price steer you away?
You decide!

New Hampshire Craigslist, or go here if the ad disappears.
Help me out with NPOCP. Hit me up at rob@jalopnik.com and send a me a fixed-price tip. Remember to include your Kinja handle.