In recent years, Austin's Circuit of The Americas has publicly said it wants to host series like IndyCar and NASCAR. Each time, Texas Motor Speedway in Fort Worth has publicly waved its index finger to remind everyone that its contracts block racing from the rest of the state. Time may finally be up on that.
The Austin-American Statesman reports that despite other reports about Texas Motor Speedway agreeing to a new multi-year agreement with IndyCar, COTA chairman Bobby Epstein was all about bringing the series to his track, too. That usually wouldn't fly because of Texas Motor Speedway's exclusivity contract, but the Statesman said that part of the contract isn't in place anymore.
COTA is all over that, with Epstein telling the Statesman it would be difficult to get an IndyCar deal together for next season, but "don't rule it out." From the Statesman:
It would become one of our crown-jewel events," [Epstein] told the American-Statesman. "I think it would be special for the series, too, with this city and this track."

Epstein said he had two discussions with IndyCar officials in a recent 10-day stretch.

"We're super interested," he said. "We've had productive conversations. We're talking to them. It would be exciting to see IndyCar come to Austin.

"They have choices. They have three or four places to fill a hole for next year."
IndyCar is in the market for another race, since it dropped Phoenix in June due to poor attendance. IndyCar CEO Mark Miles told the Indianapolis Star that he wants to have the same number of races next year as the series had this season, 17, meaning there's an opening.
Miles told the Indy Star he hopes to announce a "mostly complete calendar" by early September, and that the series is in talks with three tracks to potentially add to the schedule. Miles wouldn't say which tracks, but Epstein didn't mind saying his track was in the discussion.
G/O Media may get a commission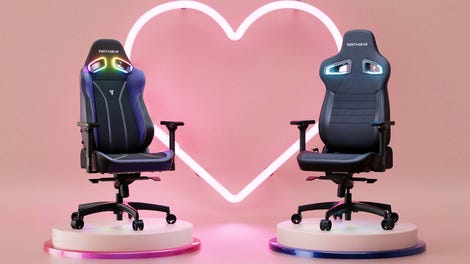 Up to $150 off
Vertagear Gaming Chairs
It took a lot to get in on the discussion, for COTA. The track is new, opening in 2012 for its first Formula One race. Texas Motor Speedway, which is 221 miles away, has been around for a couple of decades, and its president Eddie Gossage is more territorial than first-year college students who don't get along sharing a dorm room—that dorm room being the entire state of Texas.
The territorial vibe led to contracts between TMS and at least two racing series, IndyCar and NASCAR, which keep them from running at other tracks in the state. When COTA said in 2017 that a NASCAR race would be cool, Gossage told the Fort Worth Star-Telegram:
I don't blame [COTA] for wanting NASCAR races, it's just that they're 20 years too late. I don't think they know the business, or they wouldn't be saying such things.
In regards to IndyCar potentially running in Austin, Gossage said in 2014 that his response would be, "God bless you, it's been a nice 18 years, have fun."
But the Statesman reports that a Texas Motor Speedway representative said IndyCar negotiated the new contract without the track's exclusivity clause by agreeing to charge a lower sanctioning fee. That opens tracks across the rest of the state up to a potential race, which is the way it should be, since Austin and Fort Worth are basically a state away from each other anyway. Texas is big.
In came COTA, casually telling the Statesman that yes, two tracks can exist in the same state without the state imploding and could actually be a good thing:
"The oval race in Fort Worth is a staple for them. But the two tracks are very different, with ours being a road course," Epstein said. "We want to help build the sport and widen our exposure. I see it as a good match."
Gossage, instead, reminded the Statesman that Texas Motor Speedway is good and everyone else is not as good:
"This is and always will be 'America's Original Nighttime IndyCar Race,'" TMS President Eddie Gossage said. "Photo finishes and victory lane drama have been the standard over the years. No other track has seen as many IndyCar races over the last two-plus decades."
Yep. There it is. Anyway, let's all hope this pans out, because more racing at COTA is good for everyone, except Eddie Gossage personally, and who cares there.