Once again, Texas Motor Speedway track president Eddie Gossage—in Fort Worth—is being weirdly territorial about the rest of Texas after Austin's Circuit of the Americas expressed interest in a series that runs at TMS. Um, do you guys own a map? In any other, smaller state, Fort Worth and Austin would probably be in different states.

The Ford Taurus Is Reborn — But Only For the Middle East
COTA chairman Bobby Epstein recently expressed interest in hosting NASCAR. COTA, of course, is a road course instead of an oval like TMS, and it's a full three and a half to four hours away by car from TMS.

But nope! NASCAR dates elsewhere in Texas—the second largest state in the country—fall under a regional protection clause in Texas Motor Speedway's five-year contract with the series, per Autoweek.
Gossage made short work of reminding everyone that TMS called dibs on NASCAR first to the Fort Worth Star-Telegram this week:

I don't blame [COTA] for wanting NASCAR races, it's just that they're 20 years too late. I don't think they know the business, or they wouldn't be saying such things.
G/O Media may get a commission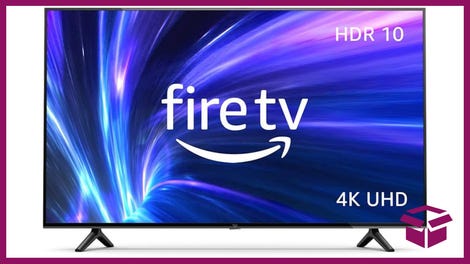 42% Off
Amazon Fire TV 50" 4K Smart TV
This is asinine, not to mention pretty condescending. These tracks are 221 miles apart by car, according to Google—and most of those miles are on the Godforsaken hellscape of perpetual construction known as I-35.

To put this spat over Texas race dates in perspective, this is like if Homestead-Miami suddenly got up in arms that Daytona was 287 miles away, or if Martinsville decided those dweebs 173 miles away at Bristol shouldn't get to have a race anymore. (Martinsville and Bristol even race in the same month this year!)

Sure, there are situations where nuisance at a nearby race would be understandable. If you know a race is going to draw people in from all over Texas, don't put the same series back-to-back at TMS and COTA in the same month.

But NASCAR only races at TMS twice a year, allowing plenty of time to sneak in a road course date that would be a welcome addition for many NASCAR fans who want to see more right turns on the schedule. Better yet, NASCAR's road course dates attract race fans who don't often come to NASCAR races, which might even convince more people to make the drive up to TMS if they liked what they saw at COTA.
To their credit, TMS puts on a pretty good show whenever I've been up there, right down to the flame-spewing, car-eating Robosaurus. That's why I think Gossage needs to heed his own words when he said this to the Star-Telegram:

We have 20 years of history with NASCAR, there's a long history there and our company is one of the biggest clients in the world for NASCAR. This story doesn't concern us.
TMS has been working with NASCAR for ages, which is exactly why any race several hours away—be it at COTA or somewhere else in the state—that's spaced out well away from TMS' dates on the calendar shouldn't be a concern at all.