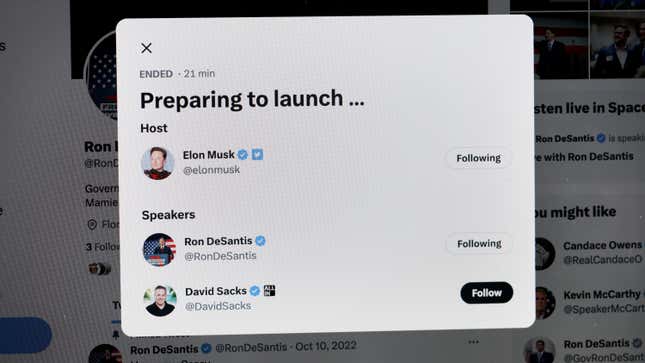 A day after his painfully disjointed announcement for a presidential bid on Twitter Spaces this week, Florida Governor Ron DeSantis signed a bill limiting the liability private space companies face from passengers and crew in the event of catastrophic failure.

Tesla Investor Day 2023 Was Pretty Great if You Ignored Elon
Some folks and outlets are making the connection between this bill, which will be a boon to private space companies, like SpaceX, to his embarrassing fan-boying over SpaceX CEO Elon Musk. But we should all probably chill out and take a look at what this law actually does.
DeSantis signed CS/SB 1318 – Spaceflight Entity Liability along with 27 other bills. The bill—which passed both chambers unanimously—does not protect a private space company from all forms of liability. It only applies to the crew and passengers who are climbing aboard. It requires anyone taking a ride on a private space flight to sign a waiver acknowledging the risks they face as well as their inability to sue should a disaster occur. It has nothing to do with say, protecting a company that crushes a house with the wreckage of an exploding rocket.
Frankly, if you're boarding a rocket you should be well aware of the risks before you ever get to the singing a waiver stage. You are traveling via means of explosion after all. It's the whole "boldly" part of going boldly. There's about a four percent chance of dying in space flight or training for astronauts and cosmonauts, according to the Space Review. SpaceX rockets have a similar rate of failure at four percent, according to the BBC. But the kind of folks who can afford to take such space flights are also the kind who can afford to be quite litigious, so such laws are needed should private space travel continue forward (whether private space flight should move forward is an entirely different argument.)
Technically, governors don't really get to make a decision on timing of when or what kind of legislation hits their desk. Bills take a lengthy process to become laws in any state and Florida is no exception. In Florida, a bill becomes law when the governor signed the law, or on the 60th day following adjournment on the legislature. Implying DeSantis is in some sort of quid pro quo with the Musk following the Spaces event doesn't really make sense. What was the Florida Senate's impetus three weeks ago when it passed the law? What about California, when it enacted a similar law in 2017 or Texas in 2011? Both have done business with Musk, but also with the Jeff Bezos' space company Blue Origin, which launches out of Cape Canaveral Space Force Station
DeSantis certainly isn't my cup of tea, and it's safe to say neither is Musk, but there's no need to look for lame fake controversies when both men are doing so much very real damage to people everyday.