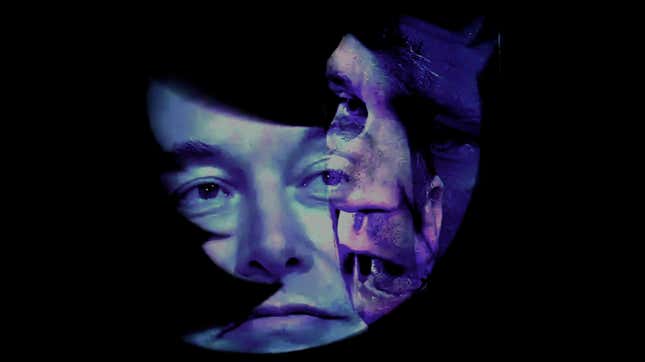 Ron DeSantis is desperate for you to think of him and Elon Musk on the same side. So sweaty is DeSantis to be the political version of Musk, that his presidential campaign spliced together a totally unhinged video of B-roll of the two men — appearing separately — with a deflated voice over from DeSantis' buggy presidential candidacy announcement on Twitter Spaces.
Tesla Investor Day 2023 Was Pretty Great if You Ignored Elon
DeSantis' announcement was hounded by echoing audio and dropped connections leading to a painful, 20-minute long delay before the conversation was up and running.
Well, less "running" and more "meandering." Musk blamed the glitches on an inordinate amount of traffic for "melting the servers," but you'd think as both owner of Twitter and host of this Twitter Spaces, Musk would have had the company prepare a little better for this event. It's just the announcement of a presidential bid, one that can and will change the trajectory of our country in big and small ways. No big deal or anything.
As the Daily Beast points out, there were so many glitches and delays that even Joe Biden dunked on the event, which...ouch.

Grandpa burning you in a subtweet is not a good look. Trump also enjoyed the glitchfest from the safety of his Truth Social account. When Spaces did get up and running, the friendly questioners heaped equal amounts of praise for Twitter and Musk as they did lobbing softballs to DeSantis. The Florida governor's announcement itself seemed fairly flat and uninteresting when compared to where DeSantis was doing it and with who.
To spice up the announcement, the DeSantis campaign spliced together what I think is supposed to be an inspiring video. But while the Twitter Spaces snafus were utterly painful, this is just...bizarre.
It's clearly a pre-made video featuring B-roll of both Ron DeSantis and Elon Musk, with a soundtrack of DeSantis making his announcement from the Twitter Spaces event. In both cases, the men are entirely separate from each other, but DeSantis is hoping you won't notice that.
The visuals don't sync up with the audio at all, and creates a jarring affect of disjointed tone, like a snippet of Musk's face lighting up and laughing as DeSantis says "...the country is going in the wrong direction, we see it with our eyes we feel it in our bones." Mere seconds later, DeSantis is discussing drug mules and a border crisis over footage of Musk launching flames into the air from his flamethrower.
Do they not get how this looks? All of the problems DeSantis discusses ends up appearing like the result of two smiling rich white men having a blast walking on stages, being adored by crowds, and playing with expensive technology. It's pretty haunting at first glance, but on second watch, it also becomes terribly pathetic.
Because this video isn't designed to connect you with the issues DeSantis is discussing, or with DeSantis himself; its purpose is to connect DeSantis to Musk. To put them in a room together in the same way Twitter Spaces did—not really, but the tenuous connection is there.
Because when you think of DeSantis, DeSantis wants you to also think of that right-wing darling of capitalism. DeSantis was having a tough time in the polls even before he announced he was running. It's been a slow slide for his numbers, and so he's cementing his out-of-touch bona fides by tying his falling star to Musk's slowly sinking one.
That's right; after a year of investigations, lawsuits, bad PR bungles and dog whistling to antisemites on Twitter, Musk isn't the media and public wunderkin he once was. According to the Axios harris poll 100, which tracks how the public views large brands in the U.S., Tesla Motors fell 50 spots over the last year. Tesla had its worst year ever in 2022, with the company stock losing 65 percent of its value. Tesla also dropped from a 73 percent market share in the U.S. to 58 percent in the last quarter of 2022. His antics as owner of Twitter hasn't helped matters much and angered owners and shareholders alike.
What we have here is two terminally online guys who still somehow fail to understand that space while slowly becoming more and more unpopular with the real world, trying to borrow each other's vanishing popularity while living in a world they've created for themselves. And they're both totally oblivious to this cringe-worthy relationship.

Strap yourselves in, 2024 is going to get messy.