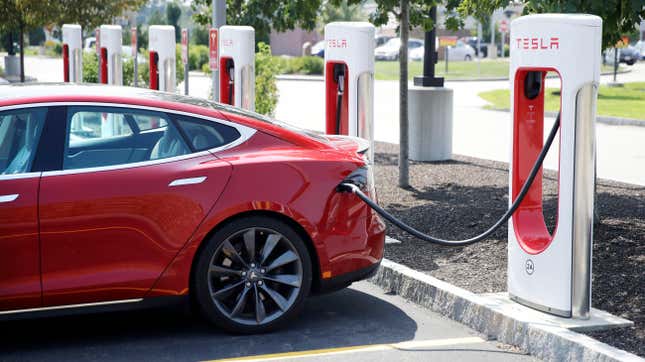 A group of Tesla Model S and Model X owners have reportedly filed a proposed class-action lawsuit against the Austin, Texas-based automaker in California. According to Reuters, the group says automatic software updates are killing their electric vehicles' batteries by decreasing driving range or causing battery failures altogether.

Chase Elliott Explains the Challenge of Adapting to NASCAR's Next Gen Car
The lawsuit – filed in the U.S. District Court in San Francisco – reportedly claims that Tesla's updates and what they end up doing to the vehicles actually violates state and federal laws. The group says they can allegedly cut driving range by up to 20 percent. That's if you're lucky, it seems. In some cases the whole system will allegedly take a shit, and that could force owners to replace the battery pack to the tune of $15,000. To avoid these issues, the lawsuit says some owners have paid third parties between $500 and $750 to reverse battery-related software updates.
Reuters reports that the lawsuit argues impacted Tesla vehicles are "protected computers" under the definition outlined in the Computer Fraud and Abuse Act. Under that law, an automatic update violates consumers' rights.
"Tesla owners and lessors are uniquely at the mercy of the makers of their cars, and Tesla imposes software updates without consent whenever their vehicle is connected to Wi-Fi," a lawyer representing Tesla owners said in the lawsuit, according to Reuters.
I know what you're thinking: "don't a hell of a lot of automakers do OTA updates?" Well, those other automakers will generally notify customers when it wants to perform one on their car, according to the outlet. Tesla, on the other hand, can issue an automatic update whenever the car is connected to the internet.
In July of 2021, Tesla reportedly agreed to pay $1.9 million to settle claims that a software update temporarily reduced maximum battery voltage in over 1,700 Model S sedans. Owners each received $625 each because of the issue. The rest of the money went to $400,000 in attorneys' fees and expenses.