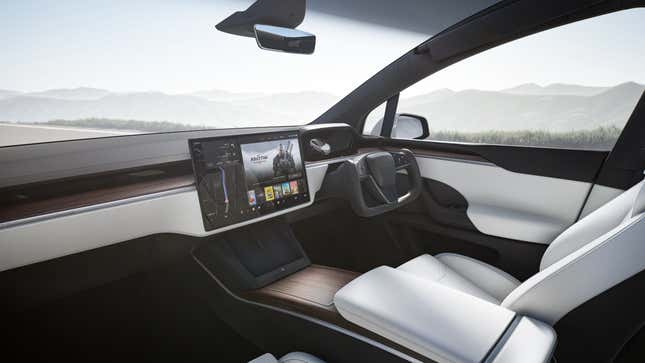 Tesla is reportedly canceling its planned right-hand-drive Model S and Model X in the United Kingdom because of mechanical and logistical complexity issues brought on by the conversion, according to Autocar. The outlet was somehow able to get in contact with a representative from the Austin, Texas-based automaker, and they said the two vehicles would be left-hand-drive only "for the foreseeable future." The choice was apparently done in an effort to allow Tesla to ramp up production and improve quality.

Tesla's Big Discounts Worked, Sort Of
The outlet reports that current right-hand-drive reservation holders in the U.K. can do one of three things. They can either purchase a left-hand-drive S or X from Tesla's existing inventory. They can alternatively receive a £2000 (€2000 in Ireland) voucher for a right-hand-drive Model 3 or Model Y, or if none of that is to their liking, they can just cancel the order altogether.
Autocar says that Tesla is also running events between May 28th and June 30th so that Model S and X reservation holders can try out a left-hand-drive car in London. It's very sweet of them. I'm sure driving on the wrong side of the car on the wrong side of the road while using a goddamn yoke will not prove to be an issue at all.
There is some good news for Tesla-wanters in the U.K., though. The outlet reports that Tesla will begin offering the stupid-quick 1020 horsepower Model S and X Plaid there. Folks in the U.K. have had to make due with standard dual-motor vehicles since the 2021 reveal.
Tesla prices change constantly, but at the time of writing, Autocar says Model S Plains are priced from £114,930 and Model X Plaids start at £124,780 in the U.K.