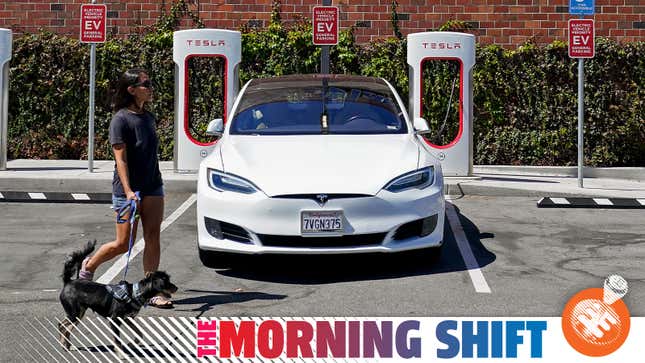 Tesla is already facing a class-action suit about alleged spying on footage from customer vehicles, Ram has no good news for us and China's new car industry is keeping flat, even despite loads of price cuts. All that and more in this edition of The Morning Shift for Monday, April 10, 2023.

1st Gear: Inevitably It's a Lawsuit Now
It was only Thursday that Reuters published a report citing information from nine former Tesla employees that some individuals in the company had made a habit of passing around embarrassing and sensitive videos recorded by the EVs' interior and exterior cameras. Now the company is facing a class-action suit filed in the U.S. District Court for the Northern District of California, per the latest from the news agency on Monday:
The lawsuit, filed by Henry Yeh, a San Francisco resident who owns Tesla's Model Y, alleges that Tesla employees were able to access the images and videos for their "tasteless and tortious entertainment" and "the humiliation of those surreptitiously recorded."

"Like anyone would be, Mr. Yeh was outraged at the idea that Tesla's cameras can be used to violate his family's privacy, which the California Constitution scrupulously protects," Jack Fitzgerald, an attorney representing Yeh, said in a statement to Reuters.

"Tesla needs to be held accountable for these invasions and for misrepresenting its lax privacy practices to him and other Tesla owners," Fitzgerald said.

Tesla did not immediately respond to Reuters request for comment.

The lawsuit said Tesla's conduct is "particularly egregious" and "highly offensive."

It said Yeh was filing the complaint "against Tesla on behalf of himself, similarly-situated class members, and the general public." The complaint said the prospective class would include individuals who owned or leased a Tesla within the past four years.
Reuters' initial report pegged the behavior as having taken place from 2019 through 2022. Tesla first introduced its comprehensive suite of exterior cameras to support Autopilot semi-autonomous driving in 2016, per Electrek. A short while later, the Model 3 debuted with an inward-facing camera. Initially, nobody really understood what or why Tesla was filming in the cabin, but now we know!
For an example of the sorts of recordings we're talking about here, one video of a Tesla driver striking a child on a bicycle was passed around the office "like wildfire," per Reuters' sources, while others have been made into memes with "amusing captions or commentary." Delightful! So if you happen to own a Tesla and unfortunately experienced an accident or some other type of misfortune involving your EV over the last several years, hopefully it'll console you to know that your pain potentially brightened the days of a number of Tesla employees.
2nd Gear: Affordability Is a 'Bad Habit,' Ram Says
Last week at the New York Auto Show, Ram pulled the covers off the production version of the 1500 REV electric pickup, its challenger to the F-150 Lightning and Silverado EV. Stellantis execs didn't sugarcoat it to Automotive News: this thing is going to be expensive because, in the words of CEO Carlos Tavares, it's not really in anyone's interest to make EVs more affordable:
The REV is "what we're here to celebrate and talk about, but it's expensive," Ram CEO Mike Koval Jr. told sibling publication Automotive News. "That's the elephant in the room for everybody. The cost of electrification is expensive, so for sure we need to make sure that we protect the profitability of our current in-market [internal combustion engine] business to help fund the transition to electrification." [...]

"The question is, how do we tackle those additional costs," Stellantis CEO Carlos Tavares said at a media roundtable last week. "If we don't do it, we are just going to have a significant reduction of the size of the market because [the] middle class will not be able to buy EVs, very simply put. So it is not in the interest of the corporations. It's not in the interest of the citizens. It's not in the interest of the unions that we shrink the market because we become too pricey for the middle classes."
As for the existing fleet, Ram reported an 81-day dealership inventory at the end of March, which is more or less where things sat pre-pandemic. However, the company has refrained from incentives for months now to "preserve margins." Brand chief Mike Koval noted that it's getting noticeably more difficult for buyers to afford its trucks, but that Ram isn't engaging in "bad habits" in response to that:
"Affordability is becoming an issue, so we're feeling some pressure on the pricing," Koval said. "But so far, we've resisted the temptation to resort to bad habits.

J.D. Power Canada total Automotive News Canada, for example, that the average monthly payment for a full-size truck in Canada now stands above $1,000.

"Fortunately for me, my demand is so high around the world outside of North America, I can move my cars. If things slow down in the U.S., Canada was up, Mexico's up, fleet was up. It was just U.S. retail is a little rocky."
Jeez, I really hope Ram doesn't pick up old habits anytime soon. Then blue-collar people might actually be able to afford its blue-collar trucks.
3rd Gear: Shanghai, Home of the Megapack
Tesla already has a factory in Shanghai, but now it plans to build another where its Megapack home energy storage batteries will be made. From the Wall Street Journal:
The new factory, where Tesla will manufacture its high-capacity battery for energy storage, is scheduled to break ground in the third quarter this year and start production in the second quarter of 2024, Chinese state media Xinhua News Agency reported Sunday. The amount of Tesla's investment wasn't immediately clear.

Tesla posted a photo of a signing ceremony in a tweet and said it plans to produce 10,000 Megapack units every year. That is equal to about 40 gigawatt hours of energy storage, and the product will be sold worldwide, Xinhua said. A Megapack unit can store enough energy to power an average of 3,600 homes for one hour, according to Tesla.
Tesla currently manufactures Megapack batteries in California, which CEO Elon Musk will likely point to should anyone on the Senate Energy and Natural Resources Committee notice these plans.
4th Gear: Sales in China Are Flat
In other news out of China, new car sales growth in the country remained flat in March, with the industry moving 1.61 million units over the month. Experts have a hunch April will bring better news, albeit mostly because April 2022 was so poor, due to COVID lockdowns. From Reuters:
There is no doubt that April will see a good recovery in sales growth, Cui Dongshu, the association's secretary general, told reporters, citing a low base in the corresponding period last year.

China imposed strict COVID-19 lockdowns in major cities, such as its commercial hub of Shanghai, in April 2022.

Prices of NEVs have been falling fast, thanks to discounting and tumbling battery costs, stepping up pressure on internal combustion engine (ICE) vehicles and the legacy brands behind them.

More than 40 brands have joined a price war started by Tesla this year, among them Nissan, Toyota and Volkswagen, which have started offering aggressive discounts on their best-selling ICE models to defend market share.
This stagnation has had an interesting effect on the market, which ties in directly with our final gear for this Monday...
5th Gear: Price Cut Panic
See, every automaker (but especially Western brands) is slashing stickers left and right in China, across internal-combustion and battery-electric offerings alike. Bloomberg reports that 20 percent of all new cars on the market, covering 649 models, had their prices cut by 10,000 yuan ($1,500) or greater. What's especially concerning about this, given what we now know, is that this trend isn't really moving the needle in terms of sales. That has experts wondering what's next. Again, courtesy Bloomberg:
While it's not unusual for carmakers and dealers to give out incentives to clear inventory of older models, it's the quarter's exceptional intensity that's sparked social media discussion and raised concerns among analysts about shrinking profit margins, not to mention potential compromises to quality and innovation. The long-term sustainability of some automakers is even coming into question.

Tesla's shares plunged 6.1% earlier this month on concern that significant price cuts early this year have only yielded an incremental gain in vehicle sales.

China's Association of Automobile Manufacturers, meanwhile, has called for an end to the price war, saying it isn't a long-term solution to a slowdown in sales and accumulation of stock. The industry body has urged a "return to normal operation" to ensure the auto market's healthy development.

What's worrying is that it remains unclear whether some of the carmakers that have desperately placed their hopes on price cuts and cash incentives to spur sales actually have an exit plan. Is this just a race to the bottom and let the bankrupt carcasses pile up? There's also the concern that spoiled customers may resist a return to normal pricing, which may result in a distorted market.
The Chinese market has a race to the bottom, meanwhile we haven't even got anyone lined up on the grid.
Reverse: In Disguises No One Knows
It was on this day four years ago — yes, 2019 was four whole years ago — that the world got its first ever glimpse at a black hole. From our friends at Gizmodo:
"This is just the beginning," Avery Broderick, physicist at the Perimeter Institute and the University of Waterloo said during a National Science Foundation press conference. Researchers are anticipating doing "amazing science" by "studying this image closely and repeating this story," he said.

Black holes are places in space so dense, with such immense gravity, that beyond a certain boundary called the "event horizon," light cannot escape. Using a technique called very long baseline interferometry, eight telescopes around the world were able to collect data from the black hole at the center of the galaxy M87 back in 2017. Researchers combined radio-wave data from each telescope, creating the image. While the final image is not a photograph and required significant data analysis and modeling to create, several independent techniques were used to process the data, and the shadow always remained in the final images, according to one of the papers.

Most importantly, this image once again proves that the main theory that physicists use to explain the force of gravity, the theory of general relativity, is correct. Yale astrophysicist Priyamvada Natarajan told Gizmodo in an email that the picture also offers the strongest evidence yet that what we've long thought about galaxies is true—that they contain supermassive black holes at their centers that contain points-of-no-return for light, called event horizons. In short, they're not just big dense balls, but something scarier.
Neutral: How Was Your Weekend?
I saw some some family and my brother practiced stick on my car, as he does every couple of months when I see him. He had taken lessons in New York City, which is one of the most horrifying places to learn manual I can imagine — though San Francisco would probably be worse.