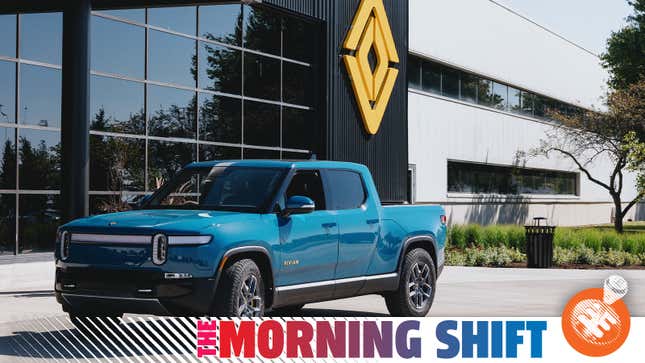 Rivian's chief engineer has gone back to building British supercars, GM's CEO is making a case for robotaxis in Washington, and things are getting desperate for Volkswagen in China. All that and more in this edition of The Morning Shift for Friday, March 17, 2023.

Rivian Recalls Nearly Every Car It Has Built
1st Gear: Back to Mac
The chief engineer Rivian poached from McLaren in 2018 has returned to Woking. Charles Sanderson will serve as chief technical officer at McLaren, after previously spearheading software at the British supercar maker. From Automotive News:
"Mr. Sanderson will now spearhead McLaren Automotive's new technology roadmap and product innovation strategy," McLaren said. Sanderson's previous role at McLaren was head of software development.

Rivian said Sanderson had chosen to return to McLaren.

A Rivian spokesperson said Sanderson was part of the product development team reporting to Nick Kalayjian, chief product development officer, who has a strong leadership team and deep bench of talent.

According to his LinkedIn page, Sanderson started with Rivian in June 2018 as vice president of vehicle integration and development, a role he held for 15 months before moving to the chief engineer job in August 2019.
Sanderson's exit marks the latest in a string of executive departures from Rivian, which has faced challenges in ramping up production of its R1T electric pickup and R1S electric SUV. The startup fell just short of its 25,000-vehicle production target last year, and many analysts found its 2023 target of 50,000 units not ambitious enough. Trouble is, Rivian can't secure all the parts it needs.
In the last seven months, at least half a dozen executives have left Rivian.

Among the departures are Randy Frank, who was vice president of body and interior engineering, and Steve Gawronski, vice president for parts purchasing, The Wall Street Journal reported in January. Rivian confirmed the departures. The company also lost its chief lobbyist, general counsel and a senior strategy director.

The automaker has had two rounds of layoffs in the past year, each shedding about 6 percent of staff. The latest, in February, included about 840 employees out of a total work force of 14,000.
Amid all of this, Rivian may be trying to free itself from its commercial van exclusivity deal with one of its largest investors, Amazon. Now, things have hardly been smooth for McLaren over the past handful of years — it is now a tenant in the home it used to own, after all. But the company did just raise a ton of money from investors, and has the backing of not one but two sovereign wealth funds.
2nd Gear: Mary Barra Comes to Cruise's Rescue
General Motors' self-driving unit Cruise has not been making headlines for the greatest of reasons as of late. Most of the recent coverage involves Cruise taxis clogging up busy streets in San Francisco during rush hour and speeding away from police, two things the city would rather they stopped doing.
But Cruise needs to occasionally break some eggs — in this case, those "eggs" being a major city's traffic patterns — to further its own development and that of self-driving cars at large, which we're repeatedly told is good for humanity. GM CEO Mary Barra met with two senators this week to chat about scaling back some of the legal restrictions that have historically limited Cruise's fleet. From Reuters:
Barra met with Senate Commerce Committee Chair Maria Cantwell and Senator Gary Peters, a fellow Democrat and a Commerce Committee member, the company confirmed.

Congress has been stymied for more than six years over legislation to ease regulations that would allow for the deployment of thousands of autonomous vehicles.

"We must act to ensure U.S. manufacturers can compete with countries like China, create jobs here and improve roadway safety," said Peters, who represents Michigan, where GM is based. He added that Barra discussed with the lawmakers "the future of mobility — including autonomous vehicles."

GM and its self-driving technology unit, Cruise, in February 2022 disclosed that they had petitioned the National Highway Traffic Safety Administration (NHTSA) for permission to deploy up to 2,500 self-driving vehicles annually without steering wheels, mirrors, turn signals or windshield wipers.

GM wants to deploy its Origin vehicle, which has subway-like doors and no steering wheels. GM says vehicles will require passengers to buckle seat belts prior to autonomous rides. The NHTSA opened the petition for public comment in July but has not acted on it.
As Reuters adds, two years ago Cruise wrote President Biden about the importance of allowing a greater deployment of its vehicles, citing the risk of "leveling the playing field" with China. Whenever you want to instill political panic to expedite a questionable decision that will affect loads of people, just bring up China. It tends to work.
3rd Gear: Mazda's New CEO
The new CEO of Mazda is its former head of North American operations, Masahiro Moro. From Automotive News:
Moro was promoted partly for his success at reforming the U.S. dealer network while in the U.S. and for rebuilding the profitability of Mazda's business there, Marumoto said at a news conference on Friday.


Moro said boosting sales per outlet in the U.S. is a key target in the automaker's most important market and said the arrival of two new large-size crossovers will power a U.S. surge.

The management shuffle also promotes current North America boss Jeffrey Guyton to become Mazda's global finance chief and a member of the parent company's board.

Guyton, 56, will be based in Hiroshima. He will keep his role as head of North American operations while adding responsibility for cost innovation and adding the title "assistant to the president."

Guyton's new role is intended to inject fresh perspective into the export-dependent Japanese automaker, which gets 86 percent of its sales from outside Japan and 36 percent from North America.

"We want to bring fresh eyes to the company," Moro said at the news conference.
Moro intends to focus on executing launches of big new products and reducing costs across the board, which isn't too different from the priorities you'd imagine anyone in his position would have. For Mazda, though, it seems success in North America is going to be key to success overall. You have to hope it works out for them; the car business is more fun when Mazda's the best it can be.
4th Gear: VW, Like All Foreign Carmakers, Is Having a Rough Time in China
You can get an excellent deal on a new Volkswagen in China right now, as the company is offering deep discounts across its range — ICE and electric — to move inventory before new emissions laws in the country prevent it from selling some of its existing models. Courtesy Reuters:
SAIC Volkswagen Automotive Co is offering 3.7 billion yuan ($537 million) in cash subsidies for car purchases in China, joining more than 40 brands in slashing prices ahead of a change in emissions rules in the world's largest auto market.

The joint venture between China's SAIC Motor Corp Ltd and Germany's Volkswagen AG is offering 15,000 yuan to 50,000 yuan in subsidies until April 30 for its full lineup, which includes the Teramont, Lavida and Phideon models, SAIC-VW said on its WeChat account late on Thursday.

Guangzhou Automobile Group, the Chinese partner of both Honda Motor Co Ltd and Toyota Motor Corp, has also offered subsidies running from March 15 to March 31.

Chinese passenger vehicle sales fell 20% in January-February, industry data showed, even as some manufacturers offered reduced prices to stimulate demand.

Sales of new energy vehicles, which include all-battery and plug-in battery-petrol hybrid vehicles, grew faster than the overall market, accounting for over 30% in February. In the same month, Chinese electric vehicle maker BYD Co Ltd outsold Volkswagen-branded cars for the second month in four.

Government plans for a stricter auto emissions standard effective July 1 has added pressure to automakers and dealers to clear inventories of vehicles that do not meet the standard, Fitch Ratings analysts said in a client note on Thursday.

"There is no other way to describe what is happening other than a catastrophic decline in performance of multi-national ICE (internal combustion engine) brands," said Shanghai-based Bill Russo of consultancy Automobility.
If you recall back in January, Volkswagen said it wouldn't cut the price of its EVs in a drastic fashion like Tesla's, because it believed in the strength of its products and wanted to stay on task with its pricing strategy. What it actually meant was that it'd cut the price of everything it makes, but only in China.
5th Gear: Battery Business Is Booming in South Korea
This week, South Korea hosted its annual InterBattery conference, an energy industry trade show. It may or may not surprise you to know that representatives from eight U.S. states were on the scene to pitch their local economies to the likes of LG, SK and Samsung. From Bloomberg:
"We want to be the best cost, the best value, the best service, and the best return on your investment," Jeff Noel, secretary of the Kentucky Cabinet for Economic Development, said in a presentation during the US EV Battery Forum seminar at the conference. "Just ask the folks at SK and Ford," he said. Kentucky has attracted part of Ford Motor Co.'s $11 billion investment in new battery plants with SK On.

Korea's three top battery makers hold around 20% of the global market, which is dominated by China's CATL and BYD. LG Energy has about 10% of the market, followed by SK On at 5.6% and Samsung SDI with 4.2%, according to Seoul-based SNE Research.

However, President Joe Biden's climate bill is pushing US carmakers to find reliable battery suppliers outside China to ensure their vehicles qualify for the maximum $7,500 subsidy, and Europe is following suit.

"Korean battery firms have secured almost 90% of new orders from US automakers recently," Jang Young-Jin, Korea's vice trade minister, said in his opening speech to the conference.
That's great news for South Korea's battery industry, though some analysts believe the sector isn't pushing far enough to establish a foothold in North America:
Officials from NAATBatt, a trade association for battery makers in North America, pushed Korean companies to invest more.

"Korean companies, especially equipment makers, are still trying to export products to the US rather than building a plant," Fred Lee, co-chair of the OnShoring Technology Committee of NAATBatt said during a seminar at the conference. "But German companies are already coming to the US, and Japanese firms can do the same anytime."

Firms from Korea need to act fast to compete, according to Lee. "Don't hesitate" to invest, he said. "You should hurry."

This is a little surprising, because Ford has BlueOvalSK, GM and Stellantis are each independently working with Samsung and Honda is doing something with LG — and those are just the joint ventures involving Korean battery producers that I can recall off the top of my head. I think everyone's going to be fine.
Reverse: 280 Miles on a Tank of No. 1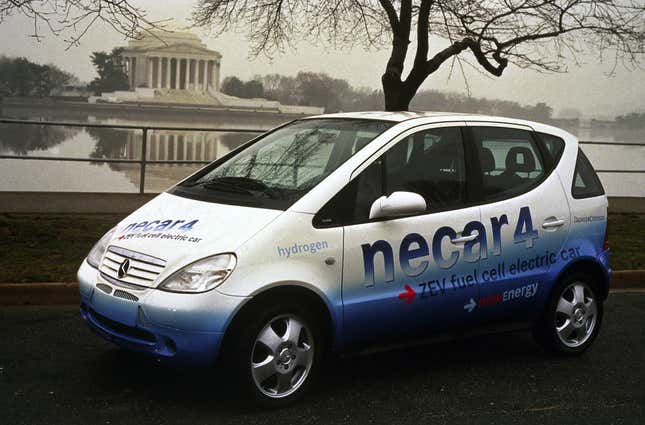 On this day in 1999 — 24 years ago — Mercedes-Benz debuted its A-Class based hydrogen fuel-cell-powered NECAR 4 prototype in our nation's capital, of all places. The way they talk about it, you'd think it was going to be the future or something. From Mercedes' press release:

The A-Class-based fuel cell powered NECAR 4, which establishes a new milestone for alternative drive systems, debuts in Washington, D.C. The fuel cell system, which operates on liquefied hydrogen and has a 40 % higher capacity compared with its NECAR 3 predecessor, is completely accomodated in the underfloor of the A-Class. The vehicle attains a top speed of 145 km/h, can travel up to 450 kilometres on one tank and has space for five passengers and their luggage.
Neutral: The Perfect Daily Driver
I drove the GR Corolla last fall and I'm still thinking about it. But that was on a track. Tim Stevens actually got to live with the dang thing for a few days. I'm not jealous at all as I read his review that went live on this very site today, which you should read, too.