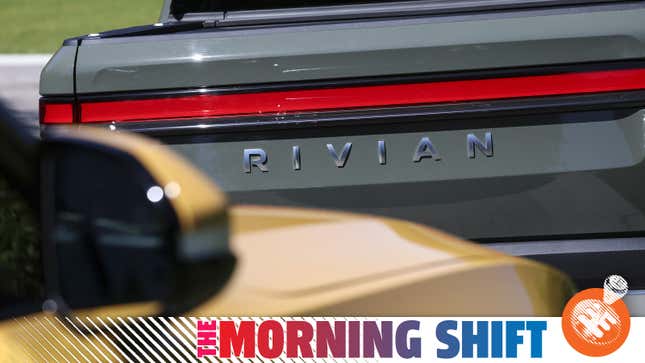 Rivian wants to double production this year but that still isn't enough to stave off investor concern, Tesla has finally opened up the first of its Superchargers to other brands' electric cars, and Ford will be showing off its Volkswagen ID.4-based electric SUV for Europe in three weeks. All that and more in The Morning Shift for Wednesday, March 1, 2023.

1st Gear: Rivian's Still Going Through It
The electric pickup and SUV maker released its guidance to investors for the year ahead, and it involves building about 17,000 fewer cars than analysts expected to see. That, coupled with a new recall covering 12,700 vehicles relating to a loose seatbelt fastener, sent Rivian's share price down 10 percent in after-hours trading Tuesday. From Reuters:
"The issue we have is that the supply constraint is, by far and away, the biggest constraint," Chief Executive R.J. Scaringe said in a conference call with analysts.

"We wish we could have the components still to fully run the plant across all lines, across multiple shifts, but that's not the case."

Rivian said in a shareholder letter on Tuesday it expects supply chain challenges to persist into 2023.

The company said it aims to produce 50,000 cars this year, compared with analysts' estimate of 67,170 units, according to Visible Alpha.
Last year Rivian just fell shy of its intended production target, churning out 24,337 vehicles as opposed to 25,000, laying the blame on its supply chain. Of those, 20,332 were delivered to customers. That doesn't sound wonderful, until you consider that merely 1,015 vehicles rolled out of the company's Normal, Illinois, factory in 2021.
Rivian also posted a gross loss of $1 billion for the fourth quarter of 2022, but expects to turn a profit by the end of 2023 — without following the Tesla playbook and lowering prices. From Automotive News:
"We feel confident in the value proposition of what we're delivering at our pricing levels today," Scaringe said on the company's fourth-quarter earnings call Tuesday.

While the current climate of higher interest rates generally reduces consumer demand, Rivian has an order backlog that will take until 2024 to fulfill.

"The demand backlog we have is very robust," Scaringe said. "It gives us a clear line of sight well into 2024."

He also noted that Tesla's price cuts came after increases last year. The cuts were also targeted in lower-priced segments where Rivian doesn't yet compete.

Rivian no longer provides a number for its order backlog, but in November it reported 114,000 preorders in the U.S. and Canada. That number was for its consumer vehicles, the R1T pickup and R1S crossover. Rivian also has a long-term order for 100,000 EDV delivery vans.
It's true that Rivian isn't yet catering to the more budget-conscious buyers that half of Tesla's lineup sort of is — after all, the company hasn't even started production on the base R1T, a pickup that costs $74,800. But Rivian can at least hang its hat on pleasing its existing owner base. The brand finished at the top of J.D. Power's ranking for overall customer satisfaction among premium EV makes — yes, beating out even Tesla. Rivian will grow at its own pace.
2nd Gear: Non-Teslas Welcome
Tesla has finally started to do what it said it would, opening an undisclosed number of its more than 17,000 individual Superchargers in the U.S. to non-Tesla vehicles for the first time this week. Of course, it benefits Tesla to do this, if it wants a slice of the Biden administration's $7.5 billion in EV-related subsidies. The brand made the announcement on Twitter on Tuesday, with a tweet that said "select Superchargers in the U.S. are now open to other EVs." Here's how it works, courtesy of Automotive News:
Because Tesla uses a proprietary charging plug, the EV maker has modified its charging units to include an adapter for non-Tesla vehicles that use the CCS plug, which is significantly larger than Tesla's plug. Most non-Teslas use the Combined Charging System standard, with the exception of a few EVs that use the CHAdeMO connector.

The Supercharger units that can accommodate non-Tesla EVs have a special dock that can either release a Tesla plug — or a Tesla plug with a CCS adapter on top of it. The type of plug is selected in the Tesla smartphone app.

The Tesla app shows a map of locations where the CCS adapters are present. For example, in Silicon Valley, the Tesla app shows "select" location in Scotts Valley, which is just south of San Jose, Calif., a major tech hub.

EV owners can download the Tesla app, create an account and choose "Charge Your Non-Tesla" from the menu. The app includes a "wallet" for payment using a credit card or Apple Pay.
I'll give Tesla a little bit of credit here, and say that at least the option for "charging your non-Tesla" as seen in a video demonstrating the company's app doesn't show Clip Art of a GM EV-1 or something. That's what I would've expected.
3rd Gear: Tesla's Mexico Plant Is Happening
In other Tesla news, because there's always Tesla news, the EV maker is officially building a plant in Monterrey, Nuevo León in northern Mexico. We'll probably hear more about it during the manufacturer's big Investor Day festivities today, but until then, here's what the president of Mexico had to say about the deal, via Reuters:
President Andres Manuel Lopez Obrador said "the whole Tesla company" was coming to Mexico to build a "very big" automotive plant, noting that potential investment in batteries was still pending. He did not reveal what models it would produce.

One Mexican official said the plant would be a Tesla "gigafactory" that could produce the Semi truck, Roadster sports car, and potentially other vehicles. Another official said the plant could produce a kind of sport utility vehicle (SUV).

The Model Y is Tesla's best-selling SUV. Tesla will likely give details of its plans on Wednesday, Mexico's government said.

Lopez Obrador's announcement of the plant in the Monterrey metropolitan area dispelled recent concerns that he could upend the investment by imposing conditions on the company due to problems over a lack of water in the arid border region.
I'm sure this factory will produce many cars, and maybe one of them will be the Semi. I would not lead with the Roadster, though I suppose Tesla has to do something with that $50,000 it collected from everybody.
4th Gear: Aston Martin Is Licking Its Wounds
Aston Martin had a challenging 2022, but, of course, it wasn't alone in that. It brought on former Ferrari boss Amedeo Felisa recently to try and set things right, and expects better days ahead. From Reuters:
The company on Wednesday forecast wholesale volumes of about 7,000 units for 2023, slightly below average market expectations of 7,134, but its outlook of for an adjusted core profit margin of about 20% came in ahead of analysts' average view.

Shares in the company jumped 7% to their highest level since July last year by 0816 GMT. [...]

The company is seeking to become sustainably free cash flow positive from 2024, helped by a capital raising last year, through which Saudi Arabia's Public Investment Fund (PIF) became its second-largest shareholder.

Revenue at the Gaydon-based group grew 26% to 1.38 billion pounds ($1.67 billion) last year, chiefly because of higher prices. Its core average selling price in 2022 rose 18% to 177,000 pounds.
With an adjusted operating loss of 118 million pounds, the company did lose nearly 44 million more pounds in 2022 than in 2021. However, analysts expected the company to report a loss of 135 million pounds, which explains the increase in its stock price. Congratulations to Aston Martin for underperforming optimally.
5th Gear: Ford Has an Announcement to Make
The first of its Volkswagen-based EVs for Europe will be revealed on March 21. That's just two days before my birthday! From Automotive News:
The car will showcase Ford's "rebellious, uncompromising, SUV heritage reimagined for the EV era," Martin Sander, who leads Ford's e business in Europe, said in posts on Twitter and LinkedIn.

Sander hinted at the EV's name by adding the hashtag #ExploringReinvented to his posts.

Ford has said it wants to reference its American roots more in the marketing and styling of European passenger cars, referring to the crossovers and pickups it sells in the U.S.

The new electric crossover is based on VW's ID4 crossover. Its range will be about 500 km (310 miles). It will straddle the compact and midsize sectors and compete with electric cars such as the Toyota bZ4X, Nissan Ariya and Skoda Enyaq.

The second VW-based EV, due next year, is expected to be a coupe-styled model similar to the the VW ID5.
I suppose Ford doesn't really need to offer this midsize electric SUV here, seeing as how it already has the Mach-E, but then it's not like the Mach-E isn't sold in Europe as well. Once again, Ford appears to be distancing its products on either side of the Atlantic. That would ordinarily bother me, a fan of Ford rally cars, but as long as the Fiesta and Focus' days are numbered, what difference does it make?
Reverse: Venera, Venus
On this day in 1966 — 57 years ago — Venera 3 crashed, but in a successful way. From History.com:
Venera 3, a Soviet probe launched from Kazakhstan on November 15, 1965, collides with Venus, the second planet from the sun. Although Venera 3 failed in its mission to measure the Venusian atmosphere, it was the first unmanned spacecraft to reach the surface of another planet. Four years earlier, the U.S. probe Mariner 2 was the first spacecraft to pass close enough to Venus to take scientific measurements of the planet, discovering surface temperatures in excess of 800 degrees Fahrenheit on its surface.

In 1967, Venera 4 succeeded where Venera 3 failed, successfully ejecting several scientific instruments, including a thermometer, a barometer, an atmospheric density gauge, and gas analyzers, into Venus' atmosphere. Then, in 1970, Venera 7 became the first spacecraft created by humans to soft-land on Venus, successfully sending back images and data for 23 minutes before succumbing to the extremely high temperature and atmospheric pressure found on the planet's surface.
Neutral: Damn, Electric Trucks Are Pricey
I forgot how expensive the cheapest Rivian R1T is. Ford may have raised the F-150 Lightning's price significantly in recent months, but the Pro trim is still almost $16,000 less than the cheapest R1T. How low would Rivian have to go to get you to sign?