A week ago, CarMax, the used-car dealer who says they're better than other used car dealers, posted a video on YouTube offering $20,000 for Max Lanman's fiancée's 1996 Honda Accord, including $5,000 for the cat in the video, whose name is Papa Puff Pants. Now, CarMax says, they've made good. And to think CarMax could've had the car for just $499 before.

Papa Puff Pants was not included in the deal, and instead will be staying with his owner, the actress who's filmed in the (still amazing) commercial. CarMax will donate $5,000 to an L.A. nonprofit called Kitten Rescue in lieu of Papa Puff Pants.
I asked CarMax whether they felt they got a good deal on the car, nicknamed "Greenie." They said, of course!
"Did you see the stuff we got?! Okay, okay…maybe we didn't get the cat, but it made sense to make a donation in lieu of it. We knew we wanted to give to a nonprofit in the LA area, where Max works and lives, and Kitten Rescue came up as a great volunteer run nonprofit focused on rescuing and finding homes for cats and kittens," Claire Hunter, a spokeswoman for CarMax told me. "'Greenie' left a '1996 Honda Accord sized hole' in our heart and we just had to have it. To join in the fun Max started, we knew we needed to offer something special to get his attention. We tweeted our video offer to him and were happy he took us up on it! However, no one should have to work that hard to sell a car! That's why we make it easy at CarMax and will buy all the cars."
All the cars!
Lanman didn't immediately respond to a request for comment, but he told Autoblog that he and his fiancée planned to spend the money paying the crew that helped with the commercial, in addition to saving towards their wedding. Whatever's leftover will go towards a down payment on a house. The commercial, it turns out, was time well spent.
G/O Media may get a commission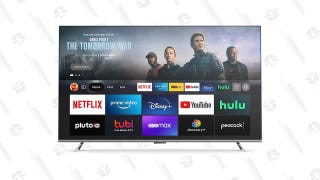 Save 46%
Fire TV 55" Omni Series 4K UHD Smart TV
[h/t Autoblog]