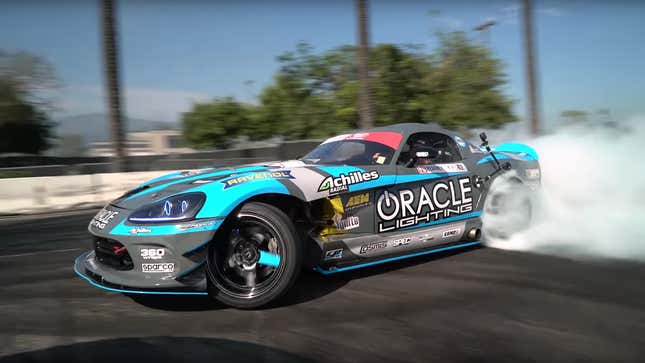 Of all the cars that have been made into drift cars, professional Formula Drift driver Dean Kearney's Dodge Viper is probably one of the coolest. Of course it keeps its V10 engine. Of course it has over a thousand horsepower. What else are you doing to do with it other than shred some tires?
Kearney paid a visit to the Hoonigan garage recently to show off his car. You'd think that the Viper, with its long-ass hood, would have plenty of room to spare after modifications, but it really doesn't. Everything is packed in there super tightly, leaving very little space in the cabin for the driver and a passenger. It's probably a little nerve-wracking when you consider the fact that drift cars sometimes, uh, crash.
Unfortunately, it doesn't seem like the Hoonigan lot is big enough for the Viper to truly stretch its legs out, because as Kearney is thrashing it, you can clearly hear him being very gentle with the throttle. Later on, we find out that all of that smoke was put out while in fifth gear. Fifth gear! On my car, fifth gear is for highway cruising.
Anyway! Vipers are cool and I want one. That is all.