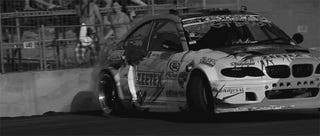 It looks like it, right?
This is a short clip from Drift Allstars 2014 Round 5 in Estonia. I was watching this because my hoonage mentor Ryan Tuerck flew over and won the event in a widebody S13 Nissan 240SX.
But it's this side exhaust BMW that has me staring.
Don't think it's surfing, though. What you're seeing is the result of very low tire pressure at the rear, necessary to handle big horsepower. That's the sidewall catching tire smoke all on its own.
So that's the state of drifting in 2014: kids are burning up the sides of their tires.