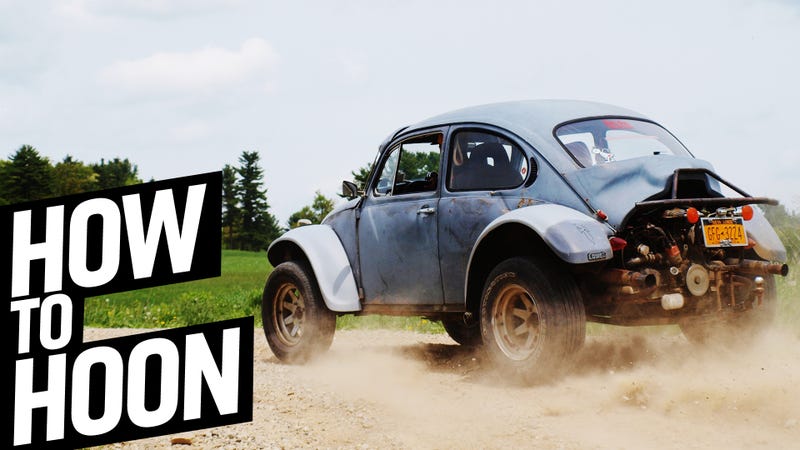 "Oh shit, you broke a tie-rod." The man sitting next to me is Formula Drift professional Ryan Tuerck, and he's staring at the right front wheel of my 1973 Volkswagen Baja Bug. We just flew sideways off the road, through a field, and over some huge rock. "Oh, no wait, you're good. You can keep going."
Before I go into too much detail into how exactly I ended up with one of the country's best professional hoons giving me drifting lessons on a farm in New Hampshire, let me give you the brief primer on how to hoon whatever piece of shit car you happen to own.
Find some place where you're not gonna crash into anyone or get arrested.
Make nice with the landowners so you're not trespassing.
Make sure it's dirt. Dirt is better.
Set up some sharp turns.
Left foot brake into these turns.
Mash the gas out of these turns.
Countersteer.
Apologize for everything you've crashed into/run over/destroyed
Stop before you kill yourself.
So that's the full guide on how to hoon the living bejeesus out of your shitty car. It will work if you have a front drive econobox from the 1990s. It will work if you have a rusty old SUV. It will work if you happen to own a rusty old Volkswagen with no tires at the front and no engine at the back.
Let me break down how I learned this process, point by point.
Actually, before I break it all down, let me say that you don't have to watch too much hoonage to know that beating on a car usually ends with the driver crashing, upside down, into a tree, on fire, with a few broken bones, with whiplash, or dead. So yeah, don't be surprised if you try and emulate any of this and find your car wrecked. I almost did.
Find some place where you're not gonna crash into anyone or get arrested
This is arguably the most important part of successfully hooning the shit out of your crapcan. Doing burnouts on your street can get you shot at, donuts in parking lots can get you arrested, and drifting on public roads can make you hella dead. So where did I look for a private hoonage location?