BMW and Toyota got together to boost each other's fuel cell research, while BMW is also busy jamming the i3's hybrid technology into the 2 Series Active Tourer. This is BMW's electric future.
BMW has its largest research facility in France, where they are busy at the moment turning electricity into sheer speed. BMW France bought the 473-hectare playground known as Autodrome de Miramas in 1986, and has been extending and updating it since. Their tracks there measure a combined length of 31 miles, including a 3 mile oval, a motorway ring and various handling courses and hills. They also have a replica of the Nürburgring's Karussell corner, which is pretty neat.
Not that a car like the 2 Series Active Tourer plug-in hybrid needs to be prepared for such tricky corners, but still, you never know.
G/O Media may get a commission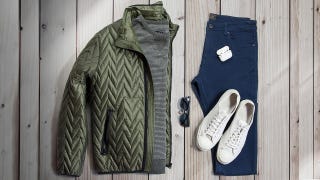 60% off
Jachs NY Fall Sale 60% Off
After looking at the brilliant i3, BMW felt it's about time they made some money on that technology by putting it into a regular front-wheel drive model.
In this case, with a front/transverse-mounted 3-cylinder turbo combustion engine producing 136 horsepower and 162 lb-ft, a high-voltage generator and an electric drive system at the rear axle giving the driver an additional 122 lb-ft, we end up with an all-wheel drive family car that will accelerate to 60 mph in about 6.5 seconds while also being able to cover 23 miles in EV mode, with its speed limited to a reasonable 81 mph.
While mass selling plug-in hybrids are on one end of the scale, go one step further than the technology found in the BMW i8, and you're looking at hydrogen power. BMW is already working on a sports car with Toyota, so it was only a matter of time before they started chatting about fuel cells as well.
The collaboration started in 2013, and while the Toyota Mirai's design is something only a mother could love, BMW's prototype turned out to be a rather badass automobile.
BMW has been experimenting with hydrogen power for decades, and also put V12 7 Series with a bivalent engine into very limited production in 2005. The Hydrogen 7 was rather lame, but a decade has passed since, and BMW wants to launch a proper fuel cell vehicle by 2020.
What's coming until then?
For starters, direct water injection that improves cooling, and therefore reduces thermal stress and improves efficiency by extinguishing the need to inject additional fuel when operating at or near full throttle.
The best thing is that you won't even have to fill up an additional water tank to make it work. It's simply kept topped up by a continuous recovery of condensed water from the air conditioning system. BMW says that will also prevents parts from icing up, while the water tank is located in a frost-protected position, wherever that might be.
Either way, that technology is ready today, and will debut in the upcoming 1 Series.
Those who are already thinking about purchasing a hybrid 2 Series should also know that while the battery went underneath the rear seat bench, BMW claims the prototype's load compartment is identical to that of the regular car, and there is still a storage compartment underneath the load compartment floor, as well.
That's quite some packaging! Speaking of which...
Robocop. No question about it.
Photo credit: BMW
---
Contact the author at mate@jalopnik.com.