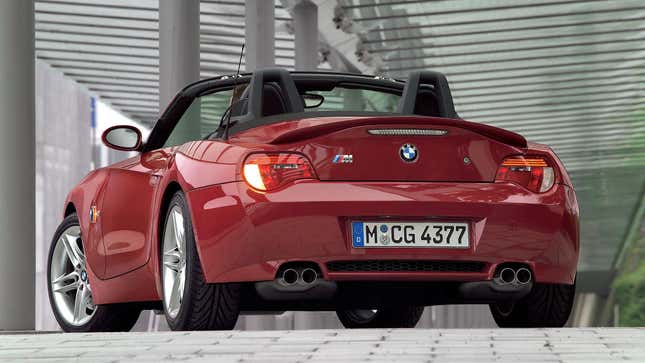 It's been a long time since BMW offered up a real M-variant of its purest sports car – the Z4 – and, unfortunately, it looks like those of us who want one are going to have to just keep on waiting. The Z4 M was first introduced with the facelifted E85 Z4 all the way back in 2006. It stuck around for only three model years after both the coupe and roadster were phased out with the rest of the first-generation Z4.
The BMW Z3 Was Secretly the Coolest James Bond Car
Since then, two more iterations of Z4 have come out, but none of them have properly carried the M name. Its absence left a hole in BMW's lineup and my heart ever since, and it doesn't look like that hole will get filled anytime soon.
Speaking with BMW Blog, Michael Wimbeck, the head of the Z4 project, said that even though BMW did "carefully and genuinely" consider a Z4 M, it just isn't going to happen. Even engineers reportedly wanted to see a G29 Z4 M come to fruition, but that wasn't enough.
The reason for the no-go is a pretty obvious one. The automaker crunched the numbers and quite simply, the math ain't mathin'. BMW is a business after all, and it probably is right in thinking that if it built a new Z4 M no one would buy it. It's a damn shame, I'll tell you.
I mean, how hard could a Z4 M even be to make? Yeah, I know it would be incredibly hard and expensive, but please indulge me. The regular Z4 already shares some M-underpinnings in its suspension. All you gotta do is ditch the M40i's 3.0-liter B58 inline-six and drop in the S58 from BMW's other M cars. It could literally be a better BMW M2, and I'll tell you why. It's because the roof comes down, and everyone knows (please do not disagree with me) that convertibles make for better sports cars.
There may be some good news though. BMW Blog says BMW is apparently considering adding a manual option to the Z4, and it makes sense now that the Supra has the option as well. Is it the Z4 M we (I) really want? Certainly not, but as far as consolation prizes go it's not too shabby.