Hydrogen as a vehicle fuel, particularly hydrogen as a combustible rather than as a part of a fuel cell system as in a Hyundai Nexo or Toyota Mirai, is kind of contentious. It's not a super efficient way to make power, and while Toyota is tinkering with the technology in race cars these days, BMW tried to make it a thing in the early aughts with the Hydrogen 7.
What's the Hydrogen 7, and why have you probably not heard of it, and, more importantly, how dumb of an idea and implementation was it way back in 2005? Well, thankfully, we have Engineering Explained's Jason Fenske to help us with those last two parts.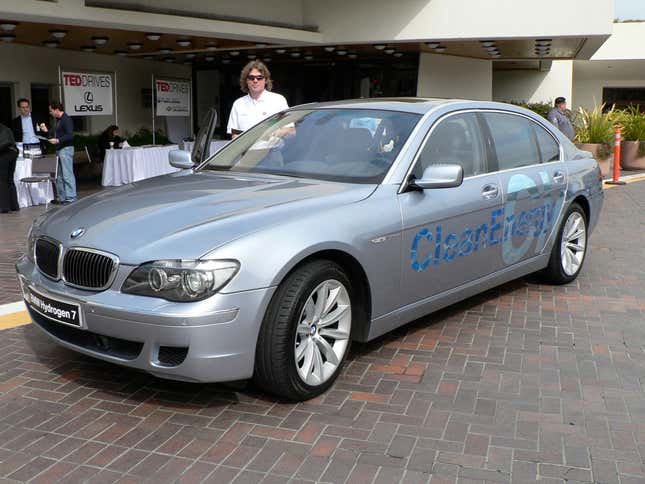 As you'll see, BMW made a lot of really weird choices that required some major sacrifices that nobody would have been willing to live with in the real world, especially not with a V12-powered luxury land yacht that was already based on an unpopular platform (Bangle Butt E65, anyone?). Things like a vacuum-insulated liquid hydrogen tank that empties itself over the course of 10-12 days of sitting, which also meant that this big boy wasn't supposed to get parked indoors.

The lack of power compared to the regular gasoline V12 was pretty egregious too, but what was more egregious were BMW's spurious claims as to the hydrogen unit's performance and range. It was a neat proof of concept, but it's one that the marketing department shouldn't have been allowed to run with.
If there's a pot of gold at the end of the rainbow, it's that Sreten from M539 Restorations on YouTube is taking the long block from one of these Hydrogen 7 V12s and using it in a performance build on a six-speed-manual E31 BMW 850i, and E31s are always cool.