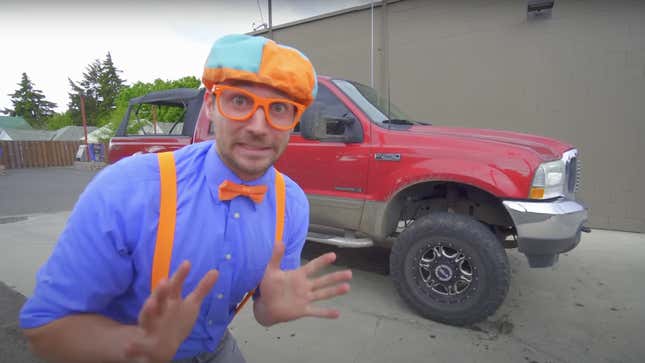 I'm currently the youngest person on the Jalopnik staff. It's been that way since I was hired back in December of 2021. So, I suppose that makes me an expert on baby stuff. Well, it's that, or the rest of the staff doesn't like me much, because I've been goaded into writing about this.
Max Greenfield's Advice for Road Trips With Young Kids
This right here is Blippi. If you've never heard of him, that makes sense. You probably don't have a kid or are not a kid, but Blippi is a big deal. With nearly 18 million subscribers on YouTube, he's a giant in children's entertainment. Think about how famous and popular Doug DeMuro is on YouTube. He's only got about a quarter of the subscribers Blippi does.
Anyway, at this point, you're probably wondering why I've been talking about a YouTuber for babies. Well, this week, Blippi decided to involve a car in his video – specifically Blippi wants to teach us how to clean cars. It's my nightmare.
The whole video is an hour long, and you're a lot braver than me if you watch it all. We're just going to focus on the first 15 minutes where an orange and blue (go Knicks!) dressed Blippi shows us how to clean a toy car and a real car. Why cleaning a real car is useful for children is above my paygrade, but Blippi is showing them anyway.
I am so tired watching this. At various points Blippi sprays a car with mustard, makes his "OH" face, drives a toy car through murky water and nearly loses a battle with a power washer. All of this is happening as Blippi SCREAMS at the camera. I guess there's information about cleaning your car buried in here somewhere, but I couldn't suss it out. Also, this makes sense in my head, but the way Blippi walks in this video reminds me of how Roman Roy sits in chairs.
Honestly, I've learned nothing from Blippi other than the fact there are horrors in this world beyond our comprehension.
The video has racked up nearly half-a-million views in just three days, and honestly that's light work for the Blipster. He has dozens of videos with view counts in the hundreds of millions, but one of them stands above all else: Blippi Learns about Jungle Animals for Kids, with 909 million views. That's equal to the population of the United States, Canada, Mexico, Great Britain, Germany, France, Italy, Australia and Japan combined. Blippi is a goddamn institution.