Earlier this month, stories began to pop up about the "last" 2018 Dodge Challenger SRT Demon ever made listed in Australia for more than $320,000 ($450,000 Australian). That was surprising, considering that Dodge had already sold the last Demon, and it didn't look like this one.
That's because the Demon in Australia isn't the last—it just appears to be, due to a numbering system that didn't go as planned. The "last" claim by the dealer selling it was pulled after clarification from Fiat Chrysler, but the price stuck.
SCD American Vehicles, an Australian import and conversion shop, got ahold of a blindingly white Demon from overseas and listed it recently. It's one of two used Demons the shop has in stock, and both are virtually untouched: This one has 14 miles on the odometer, and the other has just seven.
SCD claimed in an ad that it has the only two Demons for sale in Australia right now, which, if accurate, is a feat. Dodge only sold 3,300 of its 840-horsepower, street-legal drag cars, and only made the Demon for the 2018 model year.
G/O Media may get a commission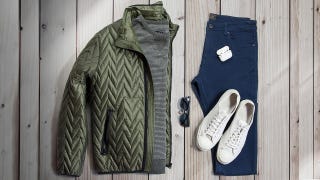 60% off
Jachs NY Fall Sale 60% Off
For the Demon in question, SCD originally opened its ad with: "This is the last Demon ever made. For one of the first times in history, we have build #3300 out of 3000 made for the US market, and 300 for the Canadian market."
The problem is that FCA made 3,314 Demons, not 3,300, as originally planned. SCD changed that line after FCA clarified the number, but not the asking price.
The price is a whopper, too. Compared to the car's $84,995 base MSRP, SCD has one of its Demons listed at nearly $235,000 U.S. at current exchange rates, and will let the "last" one go for no less than what converts out to $320,000. Some premium is natural, of course, considering that the Demon wasn't sold new in Australia and that used ones go for well into the triple digits in North America.
There won't be any haggling, either—the price on Demon No. 3,300 is "non negotiable," the ad says, because it's a collector's item.
The marker that makes the Demon in Australia a collector's item looks about as unambiguous as could be, with "3,300 of 3,300" all over it. But the actual last Demon and Viper auctioned as a pair at Barrett-Jackson last year, going to a Dodge collector for $1 million. That last Demon was also red when sold, not white, and Dodge ended up with 3,314 Demons due to a transit fire torching three and, according to FCA-focused blog Allpar, production issues with others that required a redo.
That means while the serial marking "3,300 of 3,300" that this Demon left the factory with might look convincing, it doesn't tell the full truth. Jalopnik reached out to FCA about it, and a company spokesperson poked around to see what was up.
The spokesperson checked the VIN from the Demon at Barrett-Jackson, which is the one FCA says is the last Demon made, and it didn't match the one for sale in Australia. The VIN from Barrett-Jackson was 2C3CDZH97JH103314, emphasis ours, while the one on the Demon for sale by SCD is 2C3CDZH97JH103300.
Demon VINs match the serial numbers, hence why the one in Australia is No. 3,300 while the last one was actually No. 3,314. That numbering system and the issues during production made Dodge go over its allotted serial numbers, which is what makes all of this a lot less straightforward than it should be.
Jalopnik then reached out to SCD to ask why it listed its Demon the way it did, and for comment on the situation. SCD responded, citing paperwork that listed it as "3,300 of 3,300," and sent photos of the papers. FCA, when asked, said the actual last Demon's papers have "3,314 of 3,300" on them—a casualty of all of the Demons that never made it onto the street.
SCD told Jalopnik via a Facebook message that it's resold several handfuls of Demons and converted some of them to right-hand drive, and that as far as the company is concerned with this resale, it has Demon No. 3,300 of 3,300 "and the docs to prove it."
It might have $320,000 soon enough, too, if someone finds this Demon worthy of that much cash. After all, "3,300 of 3,300" is about as convincing as it gets—no matter what the truth behind the numbers is.